MIHS School Day Lengthens for Connections
By Lucille Shield and Grady Short
---
On Monday, Sept. 24, MIHS started operating on a modified weekly schedule — a change which the administration expects to maintain for the rest of the year.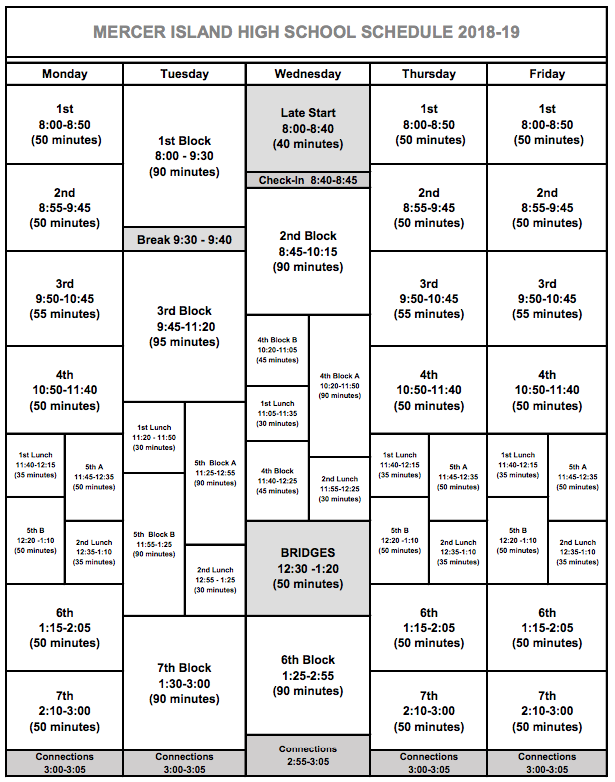 This schedule was created to address a shortcoming in instructional time. The Office of Superintendent of Public Instruction (OSPI) requires for Washington school districts to offer at least 1080 instructional hours for public high school students per school year. When it was discovered that the high school fell short in student contact time by 35 minutes each week, administration had to add more. A new 7-period week schedule has not yet been finalized.
The most notable addition is the "Connections" period at the end of each day.  Attendance will not be taken then, according to Principal Vicki Puckett, but students will have the time to "connect [with teachers], if you think you need to."
Puckett also wanted to clarify what the short "Check-in" period on Wednesdays entailed.  "School starts at 8:40, but that's five minutes that's left to check in with a teacher. If you don't have to, class starts at 8:45," she said.
Finally, five more minutes have been added to BRIDGES to make room for school-wide announcements.  This, too, counts as instructional time under the OSPI's standards.
Puckett stressed that the administration will be trying to take the student body's opinions into account.  
"One of the things we're trying to do is raise student voice in decisions that impact [them] directly," she said, "to look at the whole schedule and whether this is going to fly the mustard next year so we don't have to go through this at the beginning of the year again."