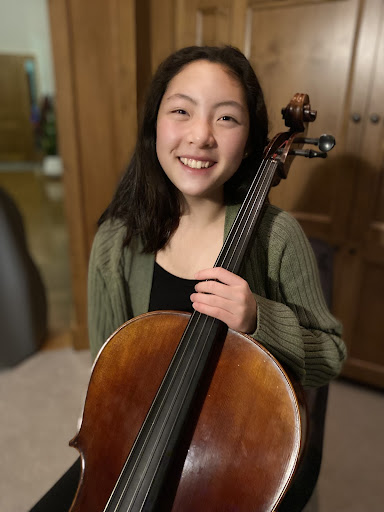 Often when people think of orchestra, violin is the first instrument that comes to mind. However, freshman Sophia Pae brings cellos to the spotlight with her incredible talent and achievements as a cellist.
Pae began playing cello four years ago. "I always loved the way it sounded," she said. "It was honestly a really easy decision for me because it is such a beautiful instrument."
Although she only has been playing for four years, Sophia has shown much improvement through consistent practice and motivation to continue learning.
"I'm mostly proud of my hard work," Pae said. "I've only been playing for four years and have improved a lot!"
Her teacher, Julie Cho, is impressed with Pae's work ethic and how she presents herself in each lesson.
"Sophia has always been on time and prepared for the class," Cho said. "She is always motivated and ready for any adventures in learning."
Pae's motivation and hard work pays off when she combines her talent with other kids in orchestras, whether those be from school or outside extracurriculars.
"Playing in an orchestra is an amazing experience," Pae said. "It's a weird feeling when all your hard work finally pays off. Interacting with others and combining our sounds to create music is so fun!"
Pae expects to continue with this passion and reach the best she can become. She will continue to strive for success in the musical world.
Her teacher couldn't agree more. "She will definitely reach a most advanced level in cello playing," Cho said.
"I definitely want to play all throughout high school and maybe a college orchestra," Pae said. "I have a bunch of goals including competitions, All-state, things like that! I think I'm pretty close to some goals I have but others are going to take a lot more work."