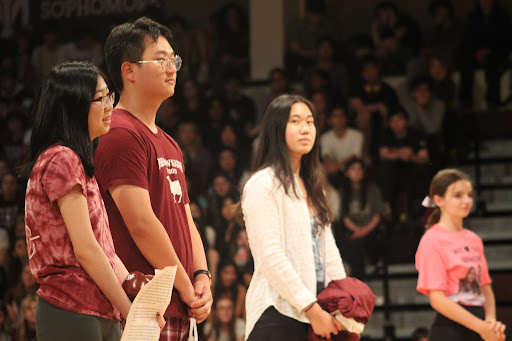 The Mercer Island High School 2023-2024 ASB elections were held in March, electing new co-presidents, vice president, secretary, PR coordinator and spirit commissioner. The five positions will be filled by the elected students next year, after the current students in ASB graduate. 
"It doesn't feel competitive when you apply because you don't know who you are running against, which I like. I think once everyone found out, though, it probably felt more competitive," Secretary Stella Chen said.  
To most candidates, the election process felt like a friendly competition, but to others it felt more competitive and stressful. Usually, the students who run for ASB positions are already experienced in elections and leadership roles at the school, so most of them have gone through an election before and know how it feels. Some positions also only had only one candidate, which made the election less tense for a few people.
"I am excited for another year of spirit-filled assemblies. I also hope to have some fresh, new events that leadership has never put on in previous years," Chen said. "As for secretary duties, I definitely have a lot of approving spending to do."
Every role in ASB has its own unique tasks, so the elected students each have different roles. However, ASB students frequently collaborate to create new events and changes.
"As ASB PR coordinator, I have to start thinking about planning the Homecoming Parade right now," Anthony Wang said. "We want to rethink some main elements of what leadership does, including Homecoming, assemblies, and overall help plan more individual events outside of the big events we do."
In addition to planning events, ASB has goals to involve a wider array of school groups in spirit days and other activities.
"Through my position on ASB, I am hoping to expand spirit to include more school groups," elected Spirit Commissioner Isabella Sullivan said. "I would like to utilize spirit days as a method of advertising school events for various student groups. This includes celebrating student achievement in sports and other clubs." 
ASB also wants to improve in such a way that the student body is always aware of what the Leadership class is working on; to do so, they plan to advertise better and improve their efficiency during class time. 
"I want to have the school know what each ASB member is working on at a time and overall be able to move the group more efficiently so that more gets done," Wang said. "Effective communication is essential for what we do, and it's something we want to get better at."