School-wide Talent Show to be Held April 2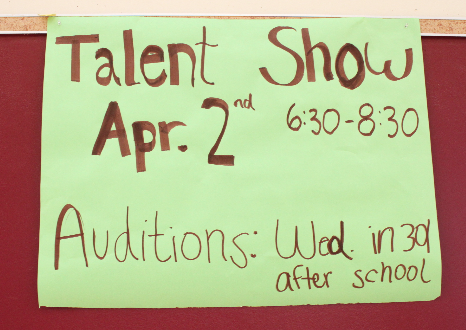 Q: How did you and Michael Sanchez decide to put on this show?
Every year in leadership, everyone has to partner up and do something to further benefit the school. So, this year my partner was Michael Sanchez and we decided to put on a school-wide talent show. Michael and I are doing the majority of the work with the help of Mr. Hilen and Ms. Melgar. Luckily, we are having a lot of fun putting it all together by watching auditions and promoting for the event.

---
 Q: When was the last time MIHS had a talent show?
As far as I know we haven't had a talent show for quite a few years, way before my time here at the high school. However, Mr. Hilen said that not very many people showed up to watch last time MIHS had one, so our main goal is to get as many people to come and support the performing students as possible!

---
Q: Is it going to be a competition with judges and prizes or is it just for fun?
Michael and I have decided to keep the talent show just for fun and not have a winner! Just by watching auditions for the show so far, we already do not think we could pick a winner because everyone is just so amazingly talented in so many different ways.

---
Q: What are the general types of acts that people could expect to see?
We have a wide range of talent this year from playing the piano, to original guitar songs, to even Indian dances. We currently have 11 people signed up for the talent show with a wide range of talent.

---
Q: If anyone was interested in performing in the show and didn't go to the audition, is there any last minute way for them to participate?
I'm not completely sure if we would be able to have anymore people audition because we have to make sure we have time to prep for each of the acts before, but if someone comes to my attention with a desire to enter, we might be able to figure something out! We want to do our best to include as many people as possible!

---
 Q: And finally, what information do people need to know if they want to come see the show?
The show is on Thursday, April 2nd, in the Performing Arts Center, starting at 6:30pm. The cost to get in is $3 dollars with an ASB card and $5 without. We hope to see everyone there!