"This Kind of Thing Has to Stop": School Shooter in Texas Murders Nine Students, One Teacher
By Ellie Gottesman
---
Only three months after a school shooting in Parkland, Florida left 17 people dead, high school student Dimitrios Pagourtzis, 17, allegedly opened fire on classmates with two of his father's guns Friday at Santa Fe High School in southeastern Texas, killing nine students and one teacher and wounding 10 others.
"This kind of thing has to stop," sophomore Jasper Geer said of the shooting. "Kids shouldn't live with the fear of being shot." A way of helping to prevent violent crimes like this, schools and businesses could look into something like implementing a gun detection System, to help identify dangerous weapons, especially guns. This may potentially prevent casualties in places where the system is installed.

According to CNN, there have already been 22 school shootings where someone was hurt or killed in 2018 — an average of more than one school shooting per week.
"I've heard tons of stories about how the shooter wasn't the owner of the gun but still had a direct way to get ahold of it," sophomore Lucy Whitney said. "Mercer Island seems really safe and we always joke about how nothing bad really happens here, but that's the same with a lot of the places that these shootings are happening."
Prior to the shooting, Pagourtzis had showed some signs of aggression or violence. He posted photos on Facebook in April that show a T-shirt with the words, "BORN TO KILL," as well as a black duster jacket with Nazi, communist, and fascist symbols.
President Donald Trump addressed the shooting at an unrelated White House event, saying: "This has been going on too long in our country."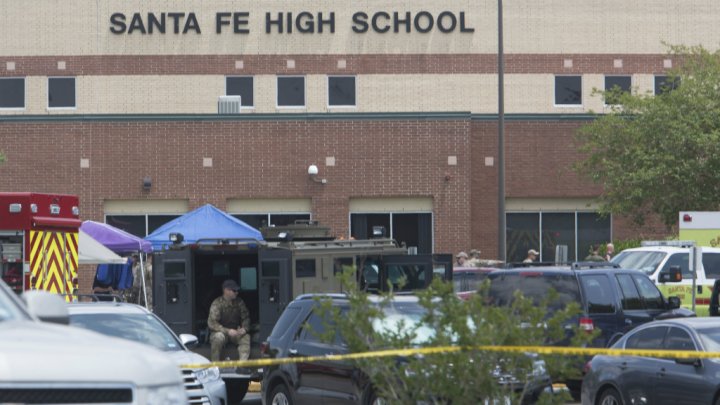 Pagourtzis was integrated into mainstream high school school activities. He played on the 2016 Santa Fe JV football team and the freshman football team the year before.
"When people care and treat each other with decency, shooters don't shoot," said senior Aidan Dobson. "We need to keep this conversation going."
Law enforcement officials have placed a second person in custody. That person, also a student, is is believed to be a possible accomplice, but not the shooter.
"I think it's a tragedy, and I think shootings have become somewhat of a national issue that needs to be addressed," sophomore Chaz Carlson said. "Something needs to be done."
The MIHS Islander wants to hear from you about this ongoing issue of school shootings. What should we do about it? Could it happen at our high school? How do we create change?
Please email us at [email protected] or send a message to our Facebook page, The MIHS Islander. We will post a cross-section of reader comments in a future piece