Commotion in the Classroom: The story behind the threat in Room 312
---
Two days before winter break, students were eagerly packing their bags as the school day drew to a close. The past two weeks had left students feeling restless and ready for a break from the strained school environment, created by the multiple student-initiated threats. The students in room 312, Kit McCormick's class, felt the tension just the same.
Their concerns, however, were especially valid. As class neared its end, students were discussing Shakespeare's Julius Caesar when McCormick spotted a handwritten note on the floor, which read something akin to "I'm going to bomb this f***ing school."
"Because of what had happened in the previous two weeks, I knew that I had to let someone know," McCormick said.
Commotion filled the class, as none of the students were aware of the situation to its full extent. "She didn't really say [anything], we were sitting there, and then she went into the back room and made a phone call and then all of a sudden police officers showed up at the door," said Ethan Boyle, a sophomore in McCormick's class. "We were all just doing our normal things that day, and were all kind of confused. We didn't really know what to do."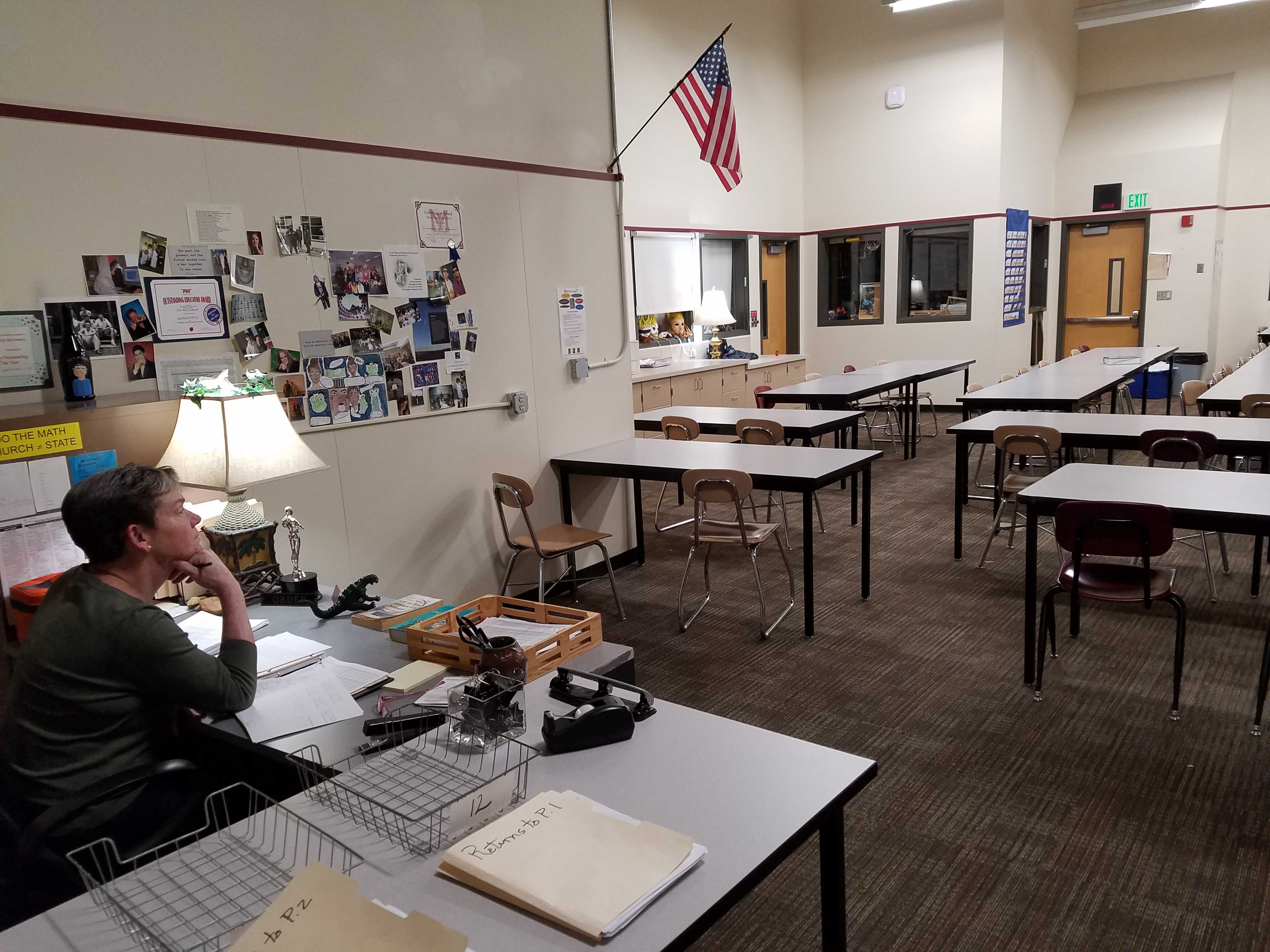 The students were detained in the classroom and were not permitted to use their phones, however, they were asked to write down their parents' contact information so families could be alerted of the situation. The administration searched certain backpacks, which students were told to leave behind when they were evacuated to the administration building. Many parents were concerned, but some students were able to reach their families before being asked to put away their phones.
"I was concerned, but once I saw the significant police presence, I felt that they had control of the situation," said an anonymous parent. "The administration did a very good job of keeping my student safe. That is what is most important to me."
After being held in the administration building for just over two hours, the students were released to an extended winter break. "I was shocked that it happened in my class. I was on high alert during the day because of the other recent threats," said Annika Schiller, a student in McCormick's seventh-period class.
A month later, McCormick's class uses the experience to reflect on the attitude of the collective student body. "I think that it probably wasn't serious. I am sure of that. However, I think that the students involved didn't understand the seriousness of joking in that way," McCormick said.
In an email outlining threats made to the district, Superintendent Donna Colosky stated, "Each student who is involved is reported to the police. Police then turn over their findings to prosecutors, and students could end up with conviction on their record."
The consequences for threatening school safety are severe, even when the intent was not to create an unstable atmosphere. "It seems like a funny joke or a way to solve problems, [but] guns and violence are a part of our culture, and its not surprising that they're a part of the culture of fifteen- and sixteen-year-olds too, given our nation's views on violence," McCormick said.
Despite the stressful situation the threat created, McCormick and her students are forgiving. "They made a bad decision, but they should get a second chance," Schiller said.
Looking forward, the students hope to see a change in the attitude of the student body toward this type of threat or joke. "I would like to see administration and the student body coming together to form a concise decision, and agree, rather than having conflicting ideas and not getting to the root of the problem," Schiller said.
As students take their seats at the beginning of seventh period in room 312, they continue to study the tragedy of Julius Caesar and its timeless themes. They continue to examine culture, diversity, and humanity. They have continued to learn despite the trying circumstances. Putting the threat behind them, McCormick's class remains a place devoted to learning.
"I was teaching when 9/11 happened. I was teaching during the Loma Prieta earthquake. We had a fire in one location. So, have there been emergencies? Yes. But nothing like this," McCormick said. "I think we need to keep having teachers who engage students and administrators that care and a community that is inclusive of all students."