By Islander Staff
---
This morning upon their arrival at school, MIHS staff and students were greeted by a number of signs posted outdoors on campus reading "IT'S OKAY TO BE WHITE." This slogan has been used frequently by white nationalist groups and sympathizers as a means of preserving a racial identity that they feel has come under attack.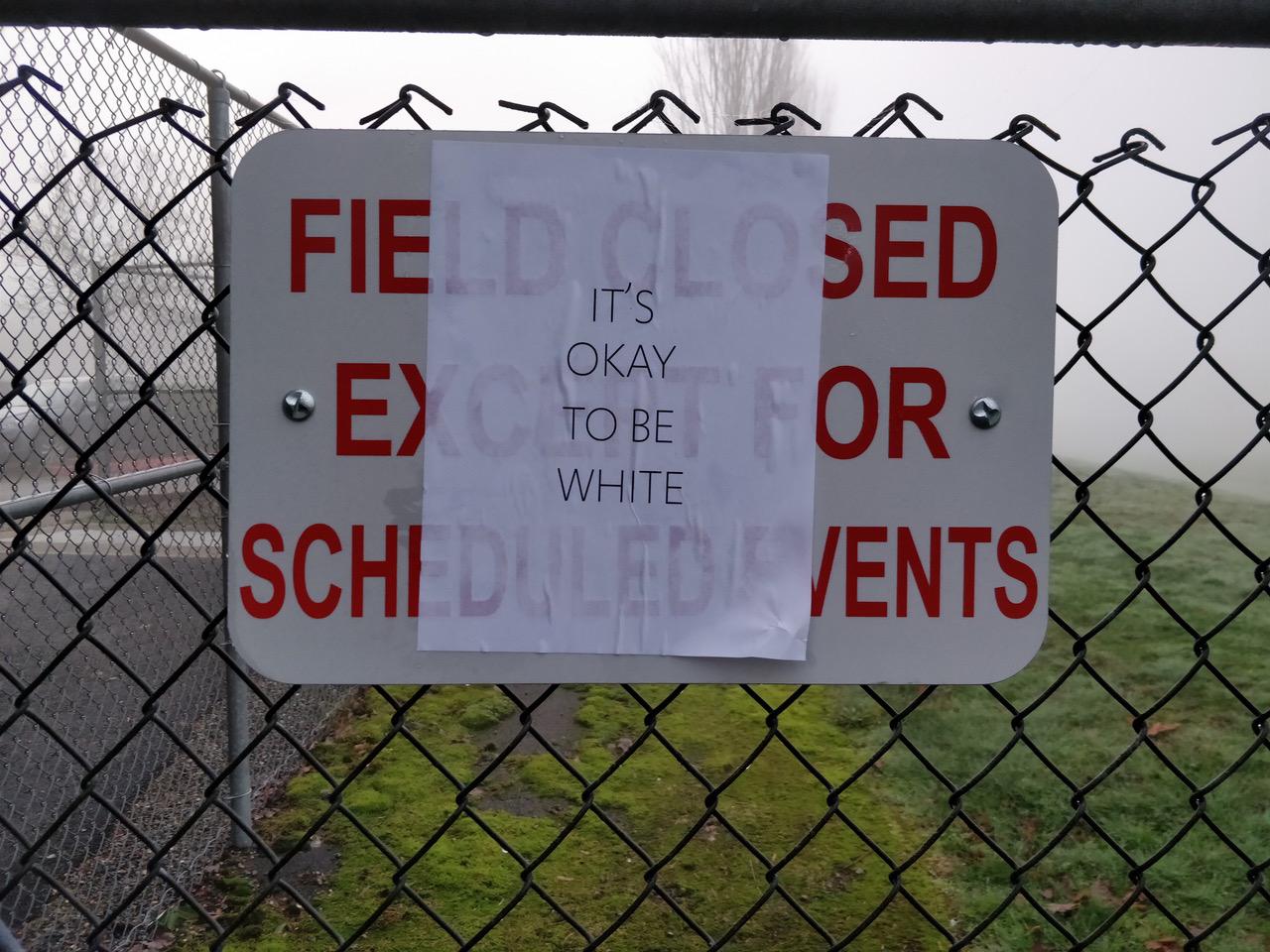 The presence of these signs took students by surprise. "Whoever posted that sign doesn't realize how important it is to have diversity," a biracial student said. "Seeing those signs just kinda makes us feel worse about it."  
Nia Tate had strong words on the subject. "For once, the black community is actually speaking out," she said. "I find it kind of stupid that [the perpetrators] are so offended by other people giving their opinions."
"I don't think white people need to be reassured that it's okay," Mya Levin said. "I'm pretty sure history has already said that it's okay to be white."
The custodial staff were the first to discover and report the signs to school administration. So far, school administrators have declined to comment on the topic, which they are still investigating.
If students feel unsafe or need someone to talk to, they can find Cathy Gentino or Chris Harnish in the R&R (Resource and Referral) Place.
UPDATE (4:33 p.m.): This email was sent to Mercer Island families by MIHS Principal Vicki Puckett. 
Dear MIHS Islander Families:          
Today our District Maintenance and Operations Department found approximately 17 signs posted around the perimeter of our campus with the message "It's Okay To Be White." We have checked our security cameras and believe an unknown individual posted the signs between 3 and 4 a.m. this morning.
After some research and discussion, we have come to learn that these flyers have been posted at many college and high school campuses around the nation.  We have worked extensively on issues of equity and inclusion in our school over the past three years, but as an article in last Friday's edition of The Islander student newspaper pointed out, we have more work to do to ensure ALL of our students and staff feel valued and included in our school community.
MIHS staff will embrace this situation as a great teaching and learning opportunity to continue equity and tolerance conversations with our students. The MIHS Diversity Action Team (DAT) will convene to strategize the best way to continue these conversations with our students.
Sincerely,
Vicki Puckett
Principal
---
This is a developing story. Updates will come throughout the day as the story evolves.