Drama One-Act Shows held at MIHS this weekend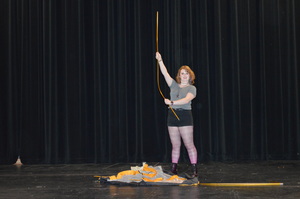 On March 26 and 27, the Drama 2 cast will be performing their original one-act short plays. For the past two months, the students have been working closely with professional writer and performer Andrea Karin Nelson on scripting and performing their own one-person shows.
"We had to write like, 100 ideas, and then pick one and be like, 'Alright I'm gonna do it!' And now we're staging them and performing them this weekend," said junior Claire Moore.
 Each short play lasts only 5-7 minutes and the styles vary from comedy to drama. Every spring, drama teacher Daniela Melgar tasks her Drama 2 class with a playwriting-based assignment once fall and winter shows are over. However, this is the first time students will be writing and acting their projects as one-person shows, focusing on their individual skills as performers.
"It shows the creative influences that everyone has experienced in their lives and the drama program. And it just shows how different each member of this cast is," said junior Lily Froio who chronicles her experiences and struggles at summer camp in her play, "Being Alone, Being Okay." The project took the form of a workshop: students would perform their shows, listen to their classmates' commentary, re-write and re-direct their shows, and start the whole process over again.
This project helped me find out what characters I like to portray, and what it's like to create a whole backstory for a person," Froio said.
The students have been working long and hard on their original short plays, and it seems as though their efforts will be worth it. "I'm very impressed with the range and quality of the shows that the students have put out. And I'm very excited for all the students to perform them for the audience. Including myself," said junior Sam Pirie. The shows will run in the performing arts center at MIHS; entrance is free. Come support the drama 2 class at 7 pm on Friday and Saturday March 27 and 28!