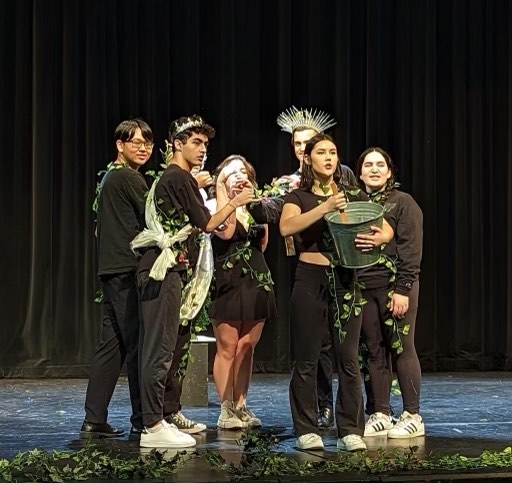 Tuesday, May 23, the MIHS Drama 1 class presented "The Secret in the Wings," an intriguing and comedic retelling of lesser known fairy tales.
The play, co-directed by Drama teacher Daniela Melgar and Drama 2 student Kyle Gerstel, opens with the audience standing onstage behind the actors, something I have never seen before. I was unsure how to feel about this setup but it ended up enhancing the storytelling by providing a more intimate view of the actors' performances. After the first scene, the audience is led off the stage into traditional seats.
I was blown away by the acting, which was exaggerated and emotional when actors needed to be and powerfully plain for the narration. It was especially impressive that each actor had multiple roles in the play as there are different storylines within the whole production.
The plot is very intricate, making it engaging but confusing at times. Each story is a fairy tale with generally easily identifiable morals and messages by the end, but while watching each tale, I was not sure what was going on. However, the confusion did not diminish my experience as I still understood the main ideas and had fun watching.
The scene changes are smooth, with lighting transitions between vignettes. The creative use of curtains and a trap door as well as creative technological integration add variety to the staging as well, keeping me engaged despite the production's low budget.
Although the script is confusing at times, I was extremely impressed with all of the Drama 1 students' performances as well as staging of the play.