Girls Soccer Progresses to State Quarterfinals
Senior Jackie Stenberg dribbles the ball past defenders. Photo by Natalie Chen.
---
Mercer Island Girls soccer defeated Bonney Lake 2-0 in the first round of the State tournament, securing a spot in the quarterfinals.
Tuesday night's game was a highly anticipated match, following Mercer Island's KingCo championship victory last Tuesday.
Mercer Island opened the game strong with two first-half goals, an early shot by Lanie Martin and a goal by Ashley Rudd. The team maintained this lead until the end of regulation.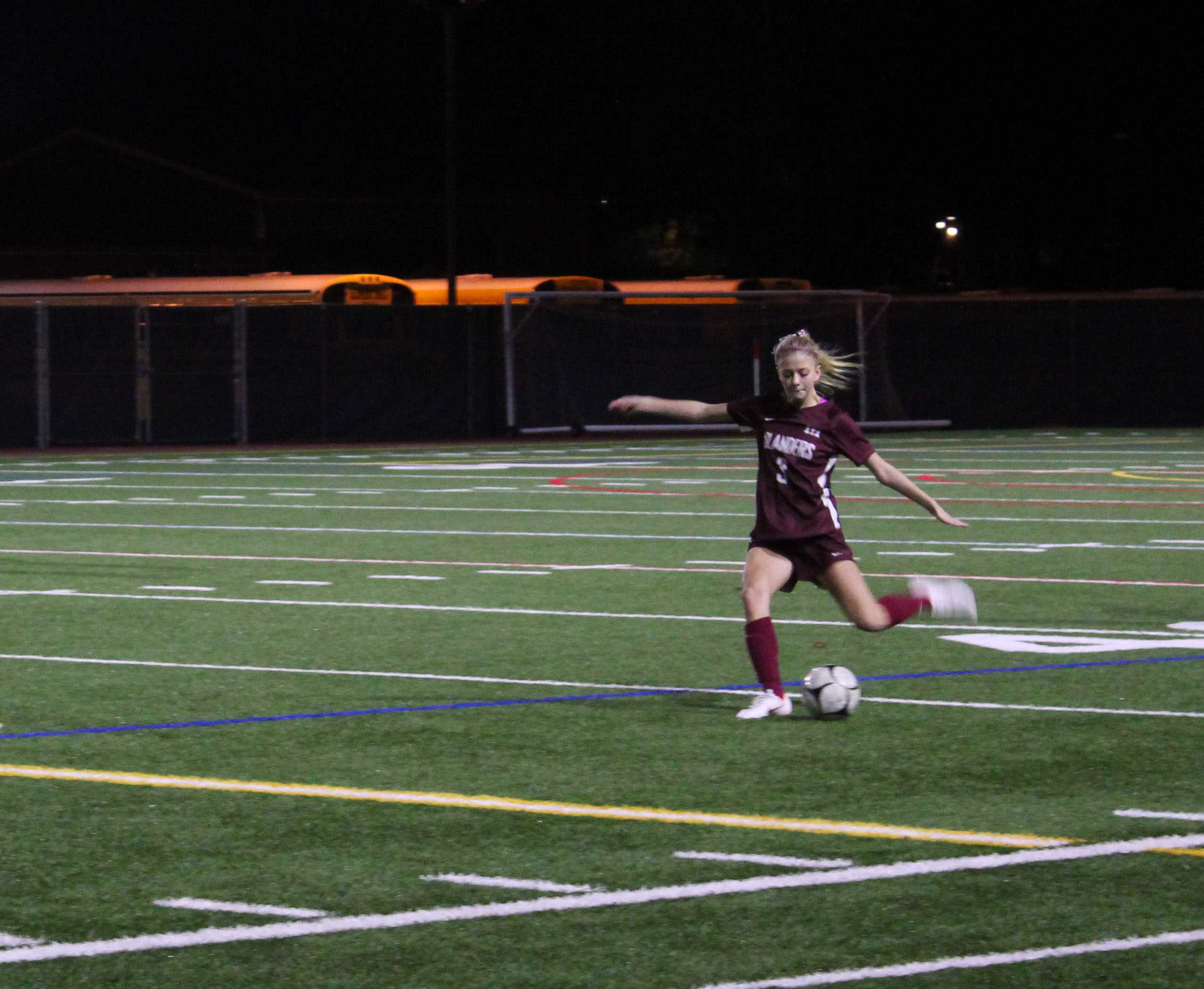 The game's fast pace and high rate of turnovers made for an exciting match, which picked up midway through the first half, according to assistant coach Corey Goelz.  
"I think that we started a little slow, but as we caught our rhythm we really hit our stride," Goelz said.
Mercer Island dominated possession throughout the game, and worked hard on defense to shut out Bonney Lake.
"I think everyone worked hard today, and worked together to put hard pressure on [the other team] and didn't give up," senior Jackie Gilroy said.
Goelz expressed pride in Tuesday's victory, but acknowledged the challenging road leading up to a prospective state title.
"We have three wins, and three wins would put us at a state championship," she said. "We have to go one game at a time because every team is playing for their life at this point. Playoffs are loser-out so everyone is playing their heart out every game, so it's going to be three hard games in a row, and I know that we can do it but it also takes a few good breaks."
With Tuesday night's victory, fans and players alike have a positive outlook for the team's chances in the final stages of the state tournament.
"I think [our prospects for state] are looking really good. Coming off from state last year I think the girls know what it takes and they've been there before and they have the experience," said Stewart Vassau, a Flag Dude and a fan of the team. "We've got a stacked group of seniors and I think we have a good chance of going all the way this year."
The team hopes to advance in the playoffs and defend their 2017 state title against Prairie this Saturday at 3 p.m. in the Jungle.