Just before school ended on Friday, Sept. 28, school administration called together an emergency meeting of student government, marching band, and spirit groups.  This discussion centered around the possible cancellation of a school spirit tradition that has existed for over 20 years: school-wide mosh pits after home football games.
Addressing a packed classroom, Drum Majors Brandon Hill, Spencer Klein, and Jazzlyn Rowland explained the situation.
"Recently there have been serious liability issues [with the mosh pits]," Hill said.  When mosh-induced injuries came to the attention of the Mercer Island School District's liability lawyers, their first instinct was to shut the moshes down altogether — a move at which school administration balked.
"It was a rip-roaring day.  It was very exciting to all of us figuring out how we're going to make [the mosh pits] a safe place," Principal Vicki Puckett said at the meeting.  "We have faith that if you guys know about this, that you're gonna be able to help make it better."
The new guidelines provided by the school aim to address the district's concerns about liability.  Administrators have also taken the opportunity to re-brand the tradition as the "Fifth Quarter," a term which many colleges use for equivalent post-game celebrations.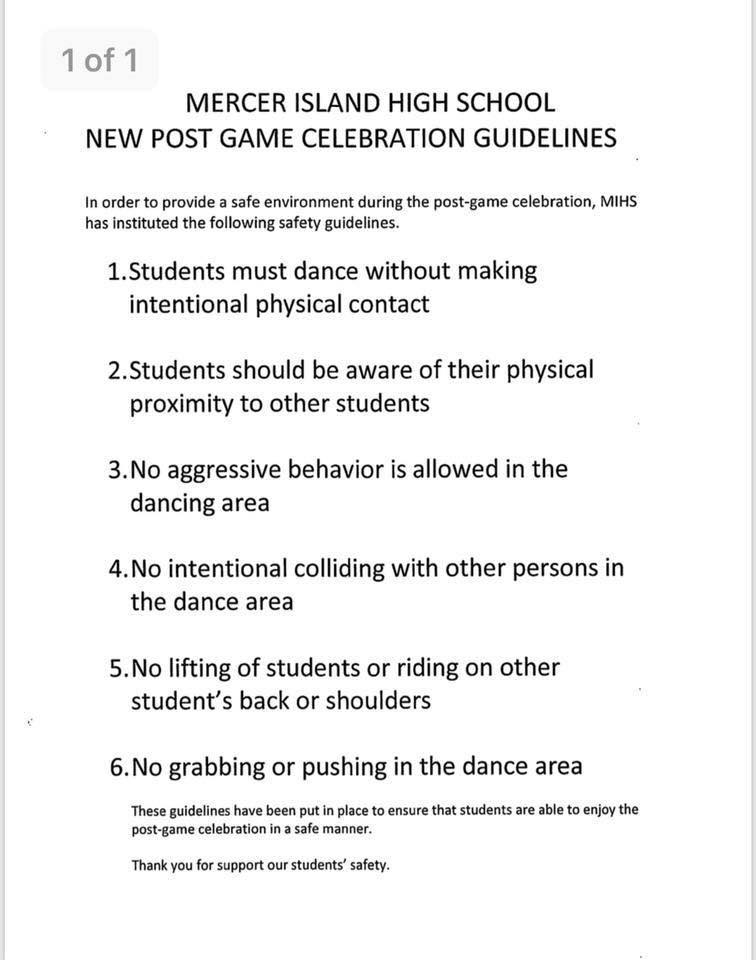 First, before entering the Fifth Quarter celebrations, participants must verify that they attend MIHS by showing their ASB cards.  The rest of the guidelines deal with student behavior once inside the amphitheater:
Students must dance without making intentional physical contact
Students should be aware of their physical proximity to other students
No aggressive behavior is allowed in the dance area
No intentional colliding with other persons in the dance area
No lifting of students or riding on other students' backs or shoulders
No grabbing or pushing in the dance area
"Every year it's gotten just a teeny bit more bashing, colliding, and it's starting to worry us," Puckett said.  She hopes that instituting these guidelines will allow students to continue to celebrate after games in a safe, responsible manner.
The overall mood of the room was a hopeful one; both administrators and students seemed to be in agreement.  The new Fifth Quarter will be tested at tonight's home game, and if students neglect to obey the guidelines, serious consequences may follow — both for individuals and the student body as a whole.  Klein summed it up in a single foreboding sentence:
"If one more person gets injured in the mosh pit, there's no more mosh pits."