On National Signing Day, MIHS Athletes Become Collegiate Athletes
The Class of 2018 committing to playing their respective sports at a collegiate level on Feb. 7, National Signing Day.
---
For many high school students, senior year is fraught with uncertainty, thanks to the college application process. For some students, however, committing to play a college sport provides an opportunity for reassurance and safety.
All colleges and universities will now offer sports of some sort to encourage health and wellness and self-satisfaction for their students. For some, enrolling in athletics or sports at university is an essential part of the experience. Colleges like chatham university athletics department can provide that necessity for students, as can many other universities.
Officially, prospective student-athletes can sign a National Letter of Intent during their senior year, which binds them to a college for one year in exchange for athletic financial aid.
However, the road to commitment is different for every student, even at MIHS, where future athletes from the Class of 2018 finally confirmed their commitments Feb. 7 at National Signing Day.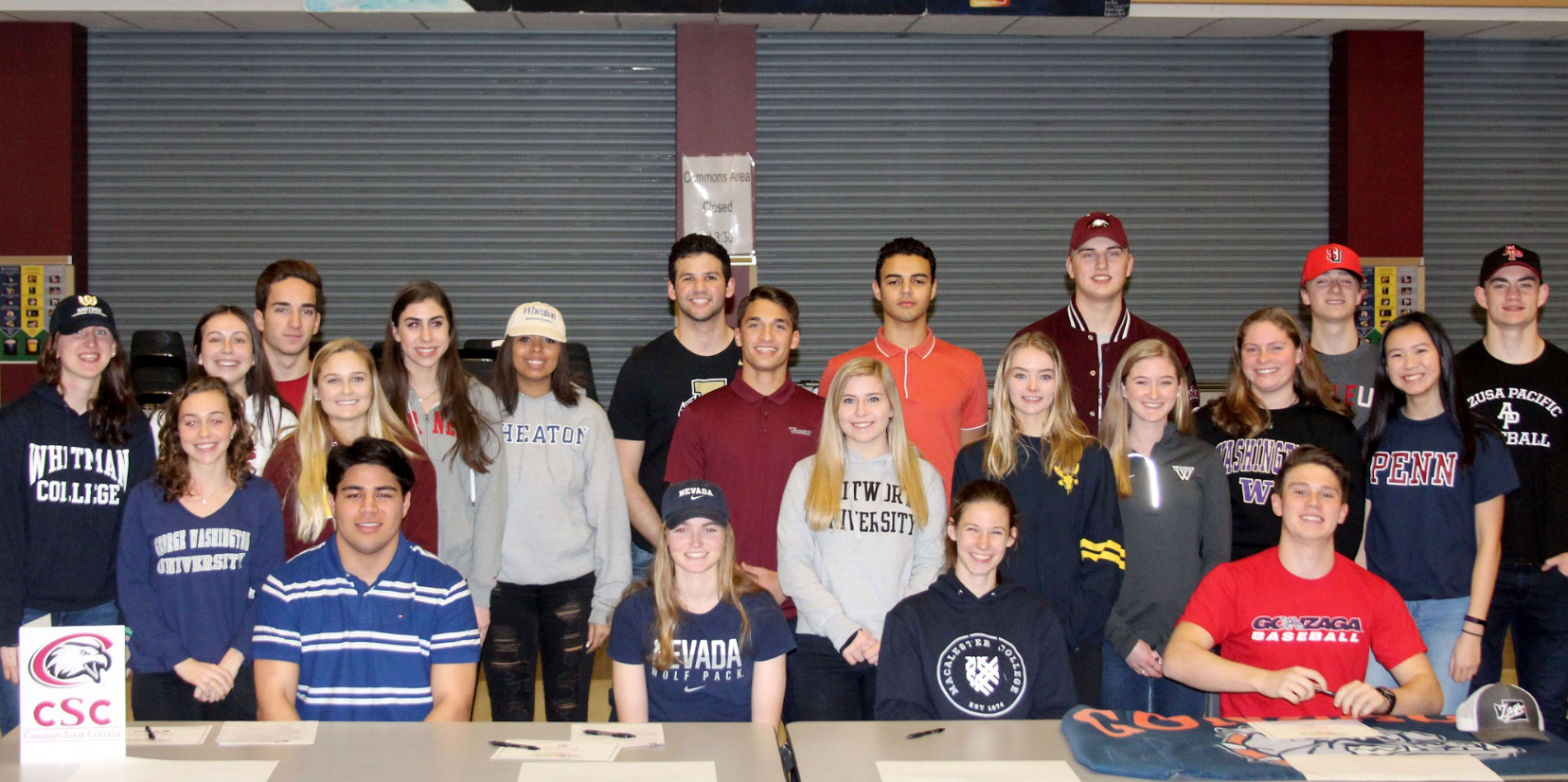 "The recruiting process for lacrosse players on the West Coast is different from the East Coast because lacrosse is so big there," Katie Brodsky, who committed to play lacrosse Arizona State University, said. "Normally, players can email coaches to watch them play whenever they want, but for me, I had to attend a showcase and email coaches to watch me."
"This one day, I got a letter from the school, and I was like, "Oh, well, that's cool!" and then I just reached out," Kayla Lee, who committed to run track at the University of Pennsylvania, said. "I'm not really sure how they find people."
"I was recruited by the men's coach first, because my brothers play there," Grace Bethards, who committed to Whitworth University for tennis, said. "Then the women's coach reached out as well. It was a lot different than reaching out to other coaches because it made me feel more wanted by the team, and that made me want to go there more."
"I wanted to learn about what it meant to play soccer in college-I didn't know anything specific about Macalester or their soccer program," Paige Robertson, who committed to Macalester College for soccer, said. "They just happened to be a convenient school to visit. After that, I didn't correspond with the coach at all until last summer."
"You send your highlights and your tournament schedule, and hope they come watch you play," Adara Hamilton, who committed to Wheaton College for volleyball, said.
"I spent endless hours putting together film and talking to coaches," Kelly Behrbaum, who committed to play volleyball at Cornell University, said. "It was nerve-racking to play in front of college coaches because one play could decide your future."
"I had to reach out to all of the coaches that I was talking to," Ella Warburg, who committed to play golf at Wellesley College, said.
"Most schools on the West Coast don't have squash teams," Anna Moscovici, who committed to play squash for George Washington University, said. "My coaches had to vouch for me and reach out to college coaches more than they would have, had we been on the East Coast."
"Getting recruited and reaching out to coaches, at least for soccer, are two parts of the same process," Ryan Hill, who graduated from MIHS in 2015 and now plays soccer at Cornell University, said. "There are so many players in the United States that if you don't reach out to a school and let them know you exist, then you will never get seen."
While communicating with coaches directly is an effective way to indicate interest in collegiate athletics, each student's individual performance remains the most crucial element when it comes to cultivating offers.
"I think what helps coaches notice a potential recruit is the level of play and attitude on the court," Behrbaum said.
"The athlete still needs to propel much of the conversation and show interest and ambition to keep the conversation going," Isabelle Knowles, who committed to row for the University of Washington, said.
Inevitably, deciding to commit to a college forces most prospective student-athletes to seriously consider their educational path far earlier than usual.
"I was recruited during January of my sophomore year," Brodsky said. "I verbally committed in February 2015, meaning I knew where I was going before a lot of the seniors that year!"
"I felt very proud of myself for committing and doing it early. It felt amazing to see where my hard work had gotten me and gave me confirmation that I was on the right track."
"It has been a lifelong goal to play college football," Spencer Luce, who committed to play football at Azusa Pacific University, said.
In many cases, the drive to play in college stems from an intense passion for their sport.
"I love soccer and simply wanted to play at the highest level I could," Hill said. "I set the goal for myself to play college sports when I was in sixth grade. I typed it out on a piece of paper, taped it to my wall, and looked at it every day."
"I chose to focus primarily on squash because I think I just fell in love with it," Moscovici said. "I loved the creativity it involves with shot selection, but also the calculation."
Despite spending years rising above every challenge in their training to hone their talents to the highest degree, future collegiate athletes still face the same increase in rigor that all students encounter upon transitioning to college.
"I feel like I have prepared myself to the best of my ability and I feel ready for college football, but I am sure there will be many additional lessons I will learn and obstacles to overcome when I arrive on campus," Luce said.
"The game is played at a much faster pace, and the girls are stronger and older," Behrbaum said. "I feel Mercer Island High School and playing on a club team has prepared me well for balancing academic and athletic pressure."
"I'm super excited to be playing at ASU, because this year is their inaugural season as a Division I sport, and they will be competing in the PAC-12," Brodsky said. "I think it will be a big challenge stepping up to that level from high school because of the physical and tenacious players that will be coming from all around the country to play there, but I am ready for it!"
"In high school I expected college soccer to be faster, higher paced, more physical, with more technical players," Hill said. "However, I was ready for it and did well my freshman year. I prepared academically as well. For me at least, it really wasn't that hard of a transition."
"I'm having the time of my life playing college sports, and I'm sad it's almost over," Hill continued. "Nothing beats pulling down wins under the lights, on TV, and in front of thousands of people."
For a lucky few, the familial feeling created by college athletics comes from actual flesh and blood relationships.
"Both of my brothers play tennis at Whitworth and they enjoy it a lot, so I am excited to join them, I will have to see how great they've become. It should be fun regardless," Bethards said. She has spent a lot of time on sites like Radracquets.com/, looking into how she can improve her techniques and equipment so she can hopefully become as successful as them.
"My sister, Brooke Behrbaum, plays volleyball for the University of Pennsylvania," Behrbaum said. "My future team will play my sister's team."
Although the journey is hard, participating in college sports can ease pressure from other sources.
"Having sports definitely made the application process less stressful in high school," Hill said. "Coaches tell you exactly what GPA and test scores you need to have to meet their school's requirements. And if you have those, you're usually good to go."
"Knowing that I would have assured acceptance has taken a huge stress out of my life," Knowles said. "[This means that] when I commit to the coach and sign, I am assured acceptance, so even though UW decisions don't come back until April-ish, I already know I am in. Because the rowing team has around 15 spots, they can basically automatically get girls in."
Bringing their most beloved activity to college enables students to ground themselves through a longstanding outlet.
"I found that running as a student is really helpful, because it really helps me get motivated, and it makes me do my work more," Michaels said. "I think having that as a sense of structure and balance in college will be really nice."
"I don't know what I would do every day if I wasn't rowing," Knowles said. "I can't imagine my life without it. It has also provided a second home and friends that makes me feel supported every day, and I want to continue to have a place like that in college."
"I really liked the team atmosphere and aspect of playing a college sport," Lee said. "You have someone – immediate friends – going into the school. You really have a family you can fall back onto, especially if you're going outside of the state, and you're so far away from home. It's really nice to have a family atmosphere."
Thankfully, many colleges recognize the vitality of academics for athletic students, and accommodate accordingly.
"The athletes at Azusa Pacific have dedicated counselors assisting them with employment after graduation," Luce said.
"Academically, I feel very reassured knowing that there are tutors and required study sessions athletes will need to attend to make sure our grades stay good," Brodsky said.
These athletes have worked incredibly hard to be where they are today, but they were not alone.
"The constant support from club coaches and my family helped me reach my goal," Behrbaum said. "I spend almost every weekend traveling in the spring since I am on a travel team, which can make balancing school and athletics quite difficult. My friends have been immensely supportive throughout the entire process."
"We counsel and support all student athletes about what the next steps may be if they are interested in playing in college," Nick Wold, Director of Athletics at MIHS, said.
"I would encourage a student-athlete to pursue collegiate athletics," Wold continued. "I believe student-athletes find creative ways to balance all of their activities with their studies and therefore I do not believe they have an adverse affect on their academics. Often times college teams require tutoring which many students do not have access to unless they are a part of a team."
In spite of the stressful and lengthy road to committing to play for a college, the Class of 2018's future collegiate athletes were glad to have traveled it.
"Committing to play Division I volleyball at Cornell University was one of the greatest moments of my life," Behrbaum said. "I felt overwhelmed with gratitude and happiness, since I had been training extremely hard to achieve this goal."
"It was really cute!" Michaels said. "My mom and I got the email, and checked on it together."
"It was really special to have her there to experience that with me, after hereing so supportive and such an amazing mom and person."
Ultimately, the opportunity to carry a deeply cherished part of their lives to the next level has improved the college experience of many MIHS student-athletes. Most importantly, perhaps, committing to a sport allows for much needed comfort in a tumultuous and typically uncertain time.
"It's really nice to know that you're going somewhere next year," Lee said.