The Voice of Mercer Island Basketball Signs Off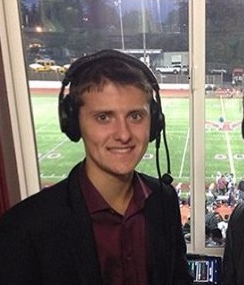 We asked senior Luke Mounger to reflect on his four-year career as the high school basketball teams' broadcaster.
Q: How did you start broadcasting for the basketball games?
As a freshman, I heard that a senior, Ryan Rouillard was restarting the radio-broadcasting program. He was going to broadcast the Boys and Girls varsity basketball games. I asked if I could shadow him so I could do the same the following year. Not only did I get to shadow him, but I also had the opportunity to broadcast with him for the second half of the basketball season.

---
Q: Do you think broadcasting could turn into a potential career?
I hope so. It is a relatively saturated field, but I think the experience I'm getting now will give me an upper hand on other people looking for a job as a broadcaster.
Q: What has it been like getting to broadcast for your family? Was it ever difficult to remain professional?
It is really hard to stay professional when broadcasting my sisters and cousins games. If one of them gets fooled hard it's hard for me to keep calm, but I've gotten better at holding my emotions back.

---
Q: What was your last game like? Was it emotional?
My last game was really emotional. I was proud and sad and there was definitely a nostalgic feeling as well. My teacher, Charlie Hilen, had my sisters and Ryan Rouillard voice a spot thanking me and talking about the memories. I had no idea they made it and when Charlie played it right before we came back from a break I broke down into tears. It was very memorable.

---
Q: What's the most important lesson you've learned from this experience?
Make every moment count. There were Friday nights when I did not want to drive to Juanita or Sammamish to broadcast. Looking back on it, I am so thankful for all of the games I got to broadcast, and I wish I had appreciated my privilege to broadcast more.

---
Q: Do you plan to continue something similar to this in college?
Yes. Whether I study journalism or broadcasting, I definitely want to continue to cover sports in college.