Avenue Q School Edition: Not Your Average Puppet Show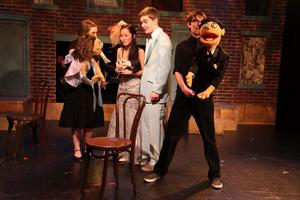 After Youth Theatre Northwest's successful run of Spring Awakening last year, the children's theatre decided to tackle yet another musical aimed at a high school audience. Avenue Q School Edition is a hilarious coming-of-age story that delivers important life lessons to the tune of catchy songs sung by a cast of Sesame Street-style puppets. The talented high school cast of this production eloquently handles the mature subjects the musical addresses, as well as putting on an extremely entertaining show.
The audience follows the life of a puppet named Princeton who has moved into an apartment on Avenue Q in search of his purpose in life. The recent college graduate, along with the rest of his apartment building's colorful cast of characters, soon come to realize that they are not as special as their parents always told them. Instead, they begin learning that nobody is all that special and that the real world is not as welcoming as they once thought.
The original Avenue Q has elements that would not be appropriate for teenage productions, so the original writers of the show came up with a school edition. The YTN website wrote that the adaptation, "maintains the dramatic (and comedic) intention and integrity of the piece, with some editing to make it more appropriate for both young adult audiences and performers."
My favorite aspect of Avenue Q, by far, is the music. With song titles such as, "What Do you Do with a B.A. in English?," "If You Were Gay," and "Everyone's a Little Bit Racist," it is clear that we are not on Sesame Street anymore. The cast of the YTN production gave these hilarious songs I had previously only heard on the original soundtrack of the show a whole new meaning. The singing was some of the best I have seen in a student production, and I thoroughly enjoyed seeing how the actors explored their characters throughout the musical numbers.
For a high school production with a cast that had never worked with puppets before, I think they did a wonderful job with such a difficult task. Having to have interactions between the puppets and the small selection of human actors, as well as working with two-person puppets, must have required intensive practice. But, that practice paid off and resulted in a show full of beginner puppeteers who appeared as if they had been doing it for years.
The acting in this production was amazing as well. All of the characters written for the show lend themselves to humor and the YTN cast did a wonderful job of embracing that. There was never a time when a character seemed flat and even the minor characters had distinct and hilarious personalities. Some of my favorite characters have always been Nicky and Rod, a pair of seemingly incompatible roommates with a dynamic similar to that of Sesame Street's Bert and Ernie. The actors playing these roles did an amazing job portraying the relationship between the two and delivered a performance that made me fall in love with the eclectic pair all over again.
Avenue Q School Edition opened on March 6 and will run until March 22. If you love to laugh and are not too scared of puppets, then this show is one that you definitely do not want to miss. Visit the YTN website for more about the show as well as ticket information.