French Exchange Students Visit MIHS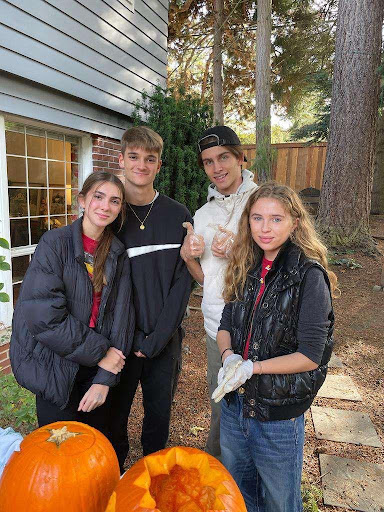 Eloi de Longcamp and Victor Massicot, two French exchange students, visited MIHS for two weeks before leaving on Nov. 5.
The two live in Thonon-les-Bains, Mercer Island's sister city, which is located just west of the Swiss border. They decided to travel to Mercer Island as a way to improve their English, an idea that originally came from Massicot's mother. "It's not really an organization that brought us here, it's my mom, who looked for a way to allow me to travel," he said. "She contacted the [Mercer Island Sister Cities Association], accompanied by our football club in Thonon. [Together,] they looked for a way to get us to travel to Mercer Island."
While they were here, they also took the opportunity to practice their football skills. "We thought, 'why not tie the trip in with football?'" Massicot said. Both of them play football for Thonon's football club, the Black Panthers, whose elite level team competes in the Diamond Helmet division, France's highest football league. They attended practices with MIHS's football teams.
"The first week we practiced with varsity, and the second with JVC," Massicot said.
To keep up their studies while in the U.S., de Longcamp and Massicot attended classes with senior Alexanne Dumont and sophomore Kate Baxter.
"We try to listen, to understand the classes—it's a bit complicated sometimes, but we get by."
They stayed with two Mercer Island host families: the Dumonts for the first week and the Baxters for the second.
"It's really different—it's not the same as in France. I like the mood. […] It's more modern too," Massicot said of MIHS's atmosphere compared to his school in Thonon.
MIHS is planning to continue student exchanges with France, with around 15 students from the French 2, 3, 4, and AP classes flying to Thonon during midwinter break.
"Next October there'll be the same amount of kids from France coming here," French teacher Deana Wiatr said. "Every other year Mercer Island students go to Thonon-les-Bains, and then every other year Mercer Island students [host] the same kids that they stayed with. […] They've been doing that for over twenty years now."
MIHS looks forward to future connections with international students from Thonon-les-Bains and other places in the world.
Note: the interviews with Victor Massicot and Eloi de Longcamp were conducted in and translated from French.