Mercer Island Sports Clean Up at State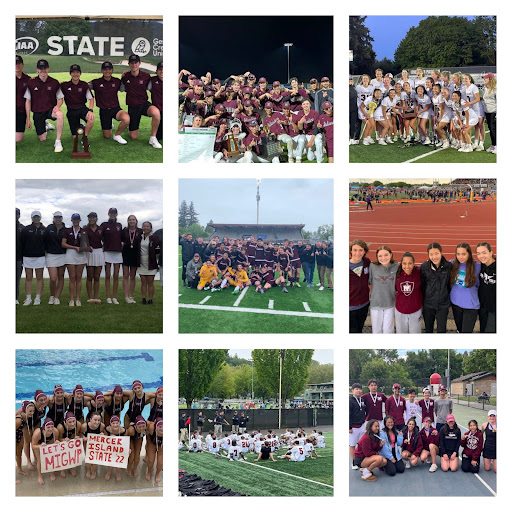 Nine Mercer Island sports teams recently placed in their respective state competitions. Girls Tennis Doubles, Girls Lacrosse, Boys Golf, Boys Soccer and Boys Baseball all took first place, and the five other competing teams all placed highly.
Girls Lacrosse
The Girls Lacrosse team took first place in state on May 20, beating the Issaquah Eagles 15-3. Out of the team's 16 games, they only had one loss, to Woodinville, in their first game of the season. 
"This year was the first chance since 2019 that we get to compete for a state [championship] …  so winning this allowed us to be back-to-back [champions], which I think was something that was really special," junior captain Jamison Drayton said.
Speaking of the team strength next year, Drayton says that the team should be in good shape.
"We have a really strong healthy junior class this year, so we'll have a big class of seniors going into next year, who have experience in big-level games, because we've all competed in the state championship," Drayton said. "We [also] have a couple good underclassmen who will take on bigger roles next year, which will be great … I think we'll all be ready to take that bigger step and do what needs to be done to hopefully win again next year."
Boys Lacrosse 
The Boys Lacrosse team lost to the Bellevue Wolverines 9-5 on May 28, putting them at second place in the state. The team finished their season with an overall record of 15-4.
"State was electric, it was the most spirit and fans I have seen all year," senior Tommy Frink said. 
Frink believes that the team will have many strong players next season.
"Strong parts of next year's team is our offense … though we will have a young D squad," Frink said.
Girls Tennis
The Girls Tennis team placed twice in the team competition, along with multiple members performing well in pairs and individually. Freshman Rachel Garton and senior captain Ava Chatalas won first in doubles, senior captain Ella Simpson and junior Jaya Manhas took fifth in doubles and sophomore Chloe DeGracia won fourth in singles.
Garton and Chatalas also placed higher than teammates Simpson and Manhas for the first time in any tournament, as they placed lower than Simpson and Manhas in both districts and KingCo.
"It was such a great feeling, one that I never expected I would feel," Chatalas said. "It made all the hours of practice and sacrifices made worth it, and I couldn't be more happy about the outcome." 
Chatalas also emphasized the love the returning players are all extremely dedicated to tennis, and expects the State experience to help out the team.
"The returning players have so much talent and potential— their competitive spirit and love for the sport will take them far," Chatalas said. =
Boys Tennis
The Boys Tennis team placed third overall in their competition, and had many other accomplishments individually as well. Junior Ajay Manhas and sophomore Nathan Wen took third place in the doubles competition, and competed against their fellow teammates, junior Brandon Chew and junior Noah Perlman, who took sixth. Additionally, junior Hanri Luo took eighth place in the singles competition.
The team not only had a strong state showing, but also placed first in both the regular season and in the KingCo playoffs. Off the court, however, the team also enjoyed spending time together during the tournament.
"The team experience was very enjoyable," Wen said. "The bus ride down was good team bonding and we shared great energy listening to Down Under by Men at Work." 
The team is composed almost exclusively of freshmen, sophomores and juniors (with the exception of senior Derek D'Souza,) which Wen believes will contribute to team chemistry.
"Our team's expectations are high for next year because many teams are losing their seniors and they won't be replaced with skilled freshmen," Wen said. "Meanwhile, our team is training hard and improving." 
Girls Water Polo
The Girls Water Polo team placed fifth in their state tournament. They won their first game against the Auburn Riverside Ravens, lost their second game against the Bainbridge Spartans and lost a third game to the Kennedy Catholic Lancers. This put them in the fifth/sixth place game, where they beat the Peninsula Seahawks to take fifth.
Boys Soccer
The Boys Soccer team finished their regular KingCo season undefeated in KingCo games, with their only loss in the regular season coming in the state qualification round. They qualified in their second-chance game, seeded 12th out of 20, and ended up winning their state championship on May 28. This was the first state title in the program's history.
"It felt like a dream the whole time, we worked as a team every day for so long. Once I heard the final whistle blow it felt surreal that we had won," senior captain Hawkins Sanborn said. "In the beginning of the season our coach told us only one team gets to win the last game of the season, and it was such an amazing feeling to end my high school career with that win."
Sanborn believes that the team next year will be spurred on by this year's victory.
"Next year's team is going to be very good," Sanborn said. "They have a lot of talent and all of the younger guys are very driven to get another state title."
Boys Baseball
The Boys Baseball team placed first in their state competition, defeating Kennewick 8-4, despite also being seeded 12th out of 20. Their overall KingCo record stood at 11-4, placing them in second place in their division, with an overall record of 21-6.
"Winning the state championship means the world to me. I've never won a championship as an Islander, except during Little League ages. To do it with this group meant even more… [they are] so special, they all became my brothers. I'm sad to be leaving the program and the best coach I've ever had is Coach Woody, but I wouldn't trade my four years for anything," senior captain Jack Varney said.
Varney thinks that the lack of departing pitchers will benefit the team in the upcoming season.=
"I'm confident next year's team [will] have the same shot to win [state] as we had this year. We will have almost the same pitching staff … our pitching will still be great," Varney said. "Hitting wise, I think we will be just as strong as we were this year, and [in] my opinion, we were the best hitting team in the state."
Girls Golf
The Girls Golf team placed fourth in the state tournament. According to the Mercer Island School District, this marks the 18th season in the row that the team has placed in the top five of the KingCo 3A division.
Boys Golf
The Boys Golf team won their state championship, with the overall lowest score on both days of competition. Senior Ethan Evans took second place individually, and junior Spencer Smith took third.
Track
The Track team sent 13 athletes to state, including the girls and boys 4×400 relay teams. Junior Ari Nguyen took fifth in both the 100 and 300 meter hurdles, senior Chase Shavey placed seventh in the 300 meter hurdles, junior Azad Khan placed fifth in the triple jump, freshman Owen Powell took 13th in the 1600 meters and senior Garrett Rogan took eighth in the high jump.
Senior Aimee Graesser, who placed twelfth in the 3A pole vault competition, believed that the team had a successful turnout overall.
"The team's performance at state was great. A lot of team members that competed individually PR'ed and medaled," Graesser said. "There were a couple races that did not go as well, but I think that will help to push the team to get better next season."
Graesser also shared her hopes for next season, and some of the issues that came with the track team's return.
"I hope the team will have a better season next year. This year we had a little bad luck with weather and our meet schedule. It was also our first full season after Covid, so people had to adjust to that," Graesser said. "[Next year] we can work on polishing out 4×400 relays and most runners on those relays will be returning next season."