The MIHS Boys Soccer team defeated the Interlake Saints in a 3-1 victory to advance to the State competition. 
The Islanders came into this match with a split record versus Interlake, with their first competition ending in a 2-0 loss and the second match a 4-2 victory.
This victory was a win-or-go-home match, as the Islanders lost Tuesday night's game against the Hazen Highlanders which provided their first chance to qualify for State. 
The game boasted a large crowd, and started out aggressive and fast-paced. The Islanders looked dominant, although chances to score came from both teams. However, the game remained scoreless until a minute before halftime, when sophomore Woody Brown scored off a throw-in from senior captain Hawkins Sanborn after some chaos in front of the net.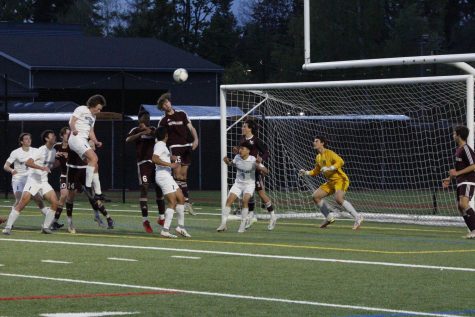 "I think we moved the ball well, and we were able to break their lines a couple times," senior Remy Frederick said. "[We] put the ball in the back of the net." 
The second half maintained the pace of the first, with a little bit of a slower intensity. Much of the second half featured little possession, and instead consisted of multiple headers and long balls. 
However, a penalty kick 10 minutes in by Interlake senior Adrian Moreno evened the game up at one goal apiece. Four minutes after that, Sanborn had a clear shot at net after a tackle on the Interlake goalie. 
Around the halfway point of the second, Interlake threatened to tie the game up with a strong shot, but junior goalkeeper Jackson Barker hit the ball out for a corner instead. With fifteen minutes remaining in the game, senior captain Brady Gilroy scored another goal for the Islanders to seal the goal and give the Islanders the 3-1 victory.
"[The] mindset is [to] keep this train running, and look for another [victory]," Frederick said.
The MIHS Boys Soccer team will look to continue on with their winning ways in the upcoming State Championship, for which the schedule has not yet been announced.