---
March 14, over 750 MIHS students left their classes to attend a student-led walkout as part of a national movement to support the Parkland shooting survivors and to demand common-sense gun laws.
The walkout began at 9:55 a.m., with students meeting in the amphitheater to remember each of the 17 victims of the Parkland shooting. Five students – Grace Zhang, Annie Poole, Sophie Poole, Lucille Shield and Phoebe Larson – read the victims' names and short biographies.
After a minute of silence for the victims, students Ella Warburg, Sam Bailey, Estey Chen and Julia Graham spoke on the importance of activism and gun control laws. While there are elements of gun control laws in most states, such as the indiana concealed carry license, for example, the protesters argue that this is not enough to prevent further tragedies from occurring.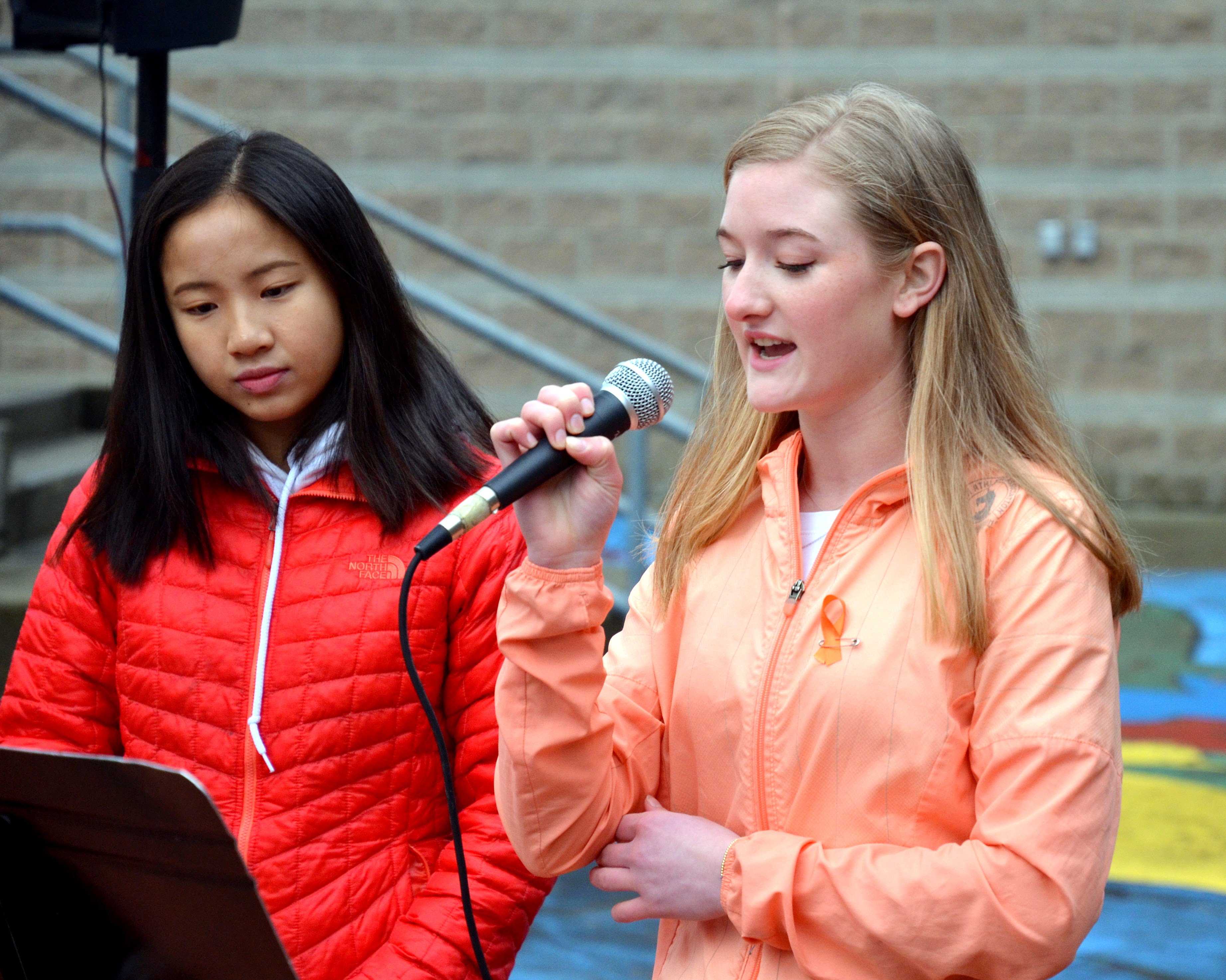 Mercer Island Mayor Debbie Bertlin, accompanied by City Council member Benson Wong, also spoke at the walkout.
"I join you in your sorrow and remembrance for those 17 lives lost in Parkland, but equally – and maybe more so – I'm here to commend you for using your voice," Bertlin said.
Augusta Norman spoke about her experience using an AR-15 at a shooting range with her family.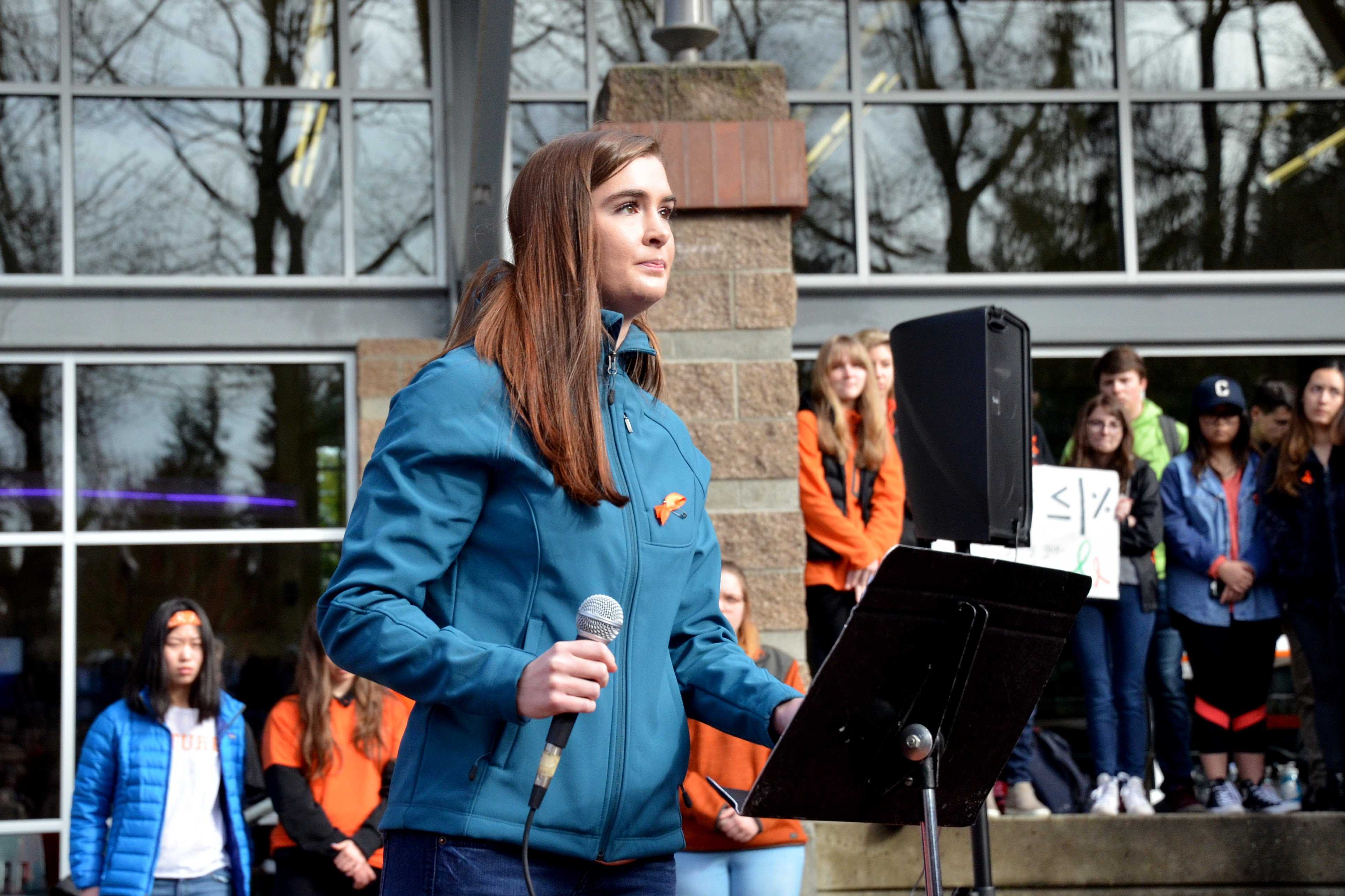 "All it did was make me feel sick," Norman said. "There was nothing sporting about that gun. No one should have that kind of power, that's too easy. No one should be able to purchase a gun at 18-years-old, that's too easy. No one should be able to shoot a hundred rounds without ever having to pause to reload, that's too easy. No one should be able to make us feel unsafe in our own school."
Anna Moscovici, who lived in Newtown, Connecticut, until 2011, spoke about her personal connection to the mass-shooting at Sandy Hook Elementary School in 2012.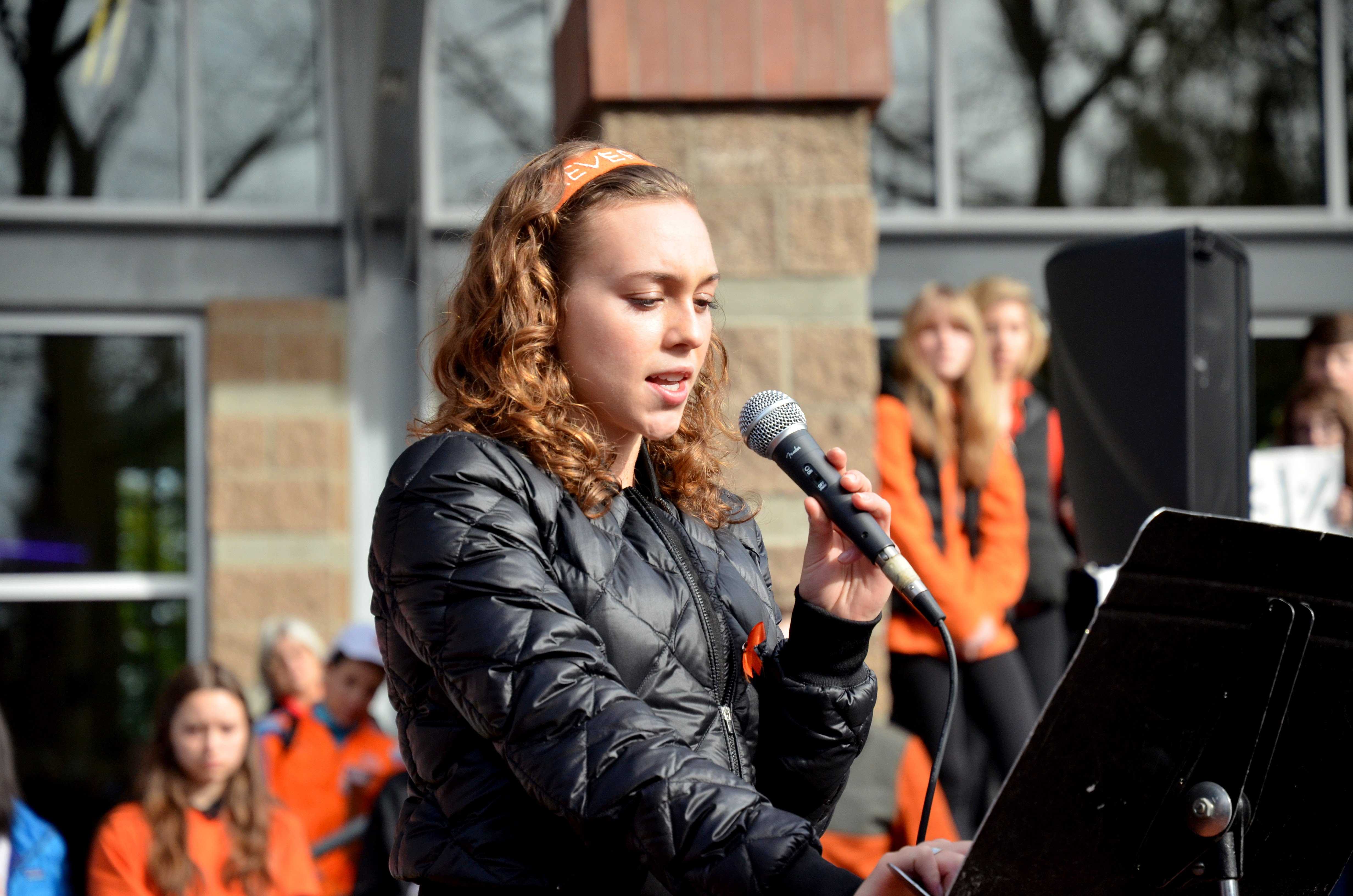 "The family who bought my home when my family and I moved to Mercer Island had a six year old named Avielle who fell in love with my room," Moscovici said. "Avielle was taken from us on Dec. 14, 2012, along with 19 other first graders and six adults, during the Sandy Hook Elementary School Massacre, in my very same first grade classroom. My images of learning cursive and painting in that classroom were now tainted with images of bloodshed."
Moscovici drew parallels between Newtown and Mercer Island.
"If an event like this can happen in Newtown, then how is anyone safe? How are we safe on Mercer Island? It is clear that no community is immune to gun violence, no matter how affluent or how well-educated. Gun violence will visit us if we don't confront the issues. So today, our generation stands up, and we demand a ceasefire."
Moscovici's speech brought many students to tears. The next speaker, Grady Short, discussed the gun control movement, and Rep. Tana Senn, D-Wash., offered encouragement and advice for future advocacy.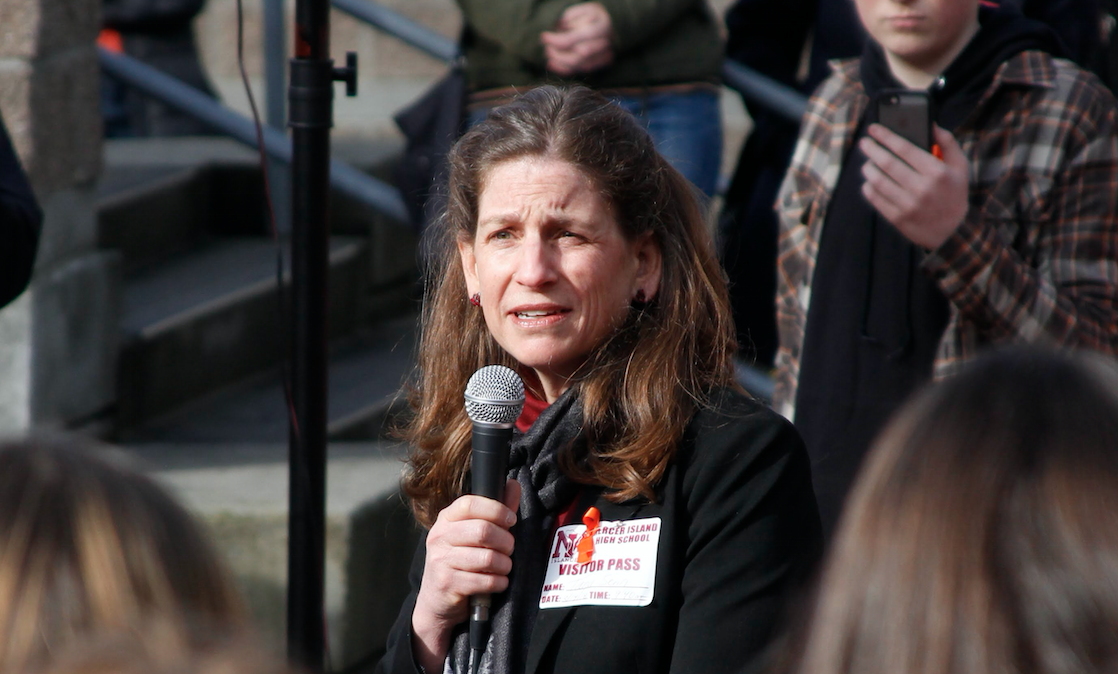 "Don't let anyone tell you you can't make a difference, or that you're just kids. Don't let the NRA–or anyone for that matter–scare you into lowering your voice about gun safety. Instead, get louder," Senn said.
The walkout concluded with a reading of an original poem by Poole:
You know it's not you / Because your desk was not used as your shield, the cabinet was not used as a barricade, your book did not stop a bullet / You know it's not us because our existence has not yet been condensed into that paragraph / You know it's not us because We just began / You know it's not us because We just began to fight."
When The Islander interviewed students who attended the walkout, many mentioned their desire for change in their community and their country.
"I'm here because even one life is too many, and it's been more than just one," Leia Saloranta said. "When we did our practice drill in BRIDGES last week, I felt actual fear. I was afraid – what if it happens to us? That's why I'm here."
"I'm here to support our school, and make sure this doesn't happen anywhere else, and acknowledge that this is a big problem happening around us," Eden Voss commented.
"I want to mourn the lives that were lost in Parkland and all the other shootings that have happened in our country, and I'm also here because I support common sense gun reform," Chloe Michaels responded.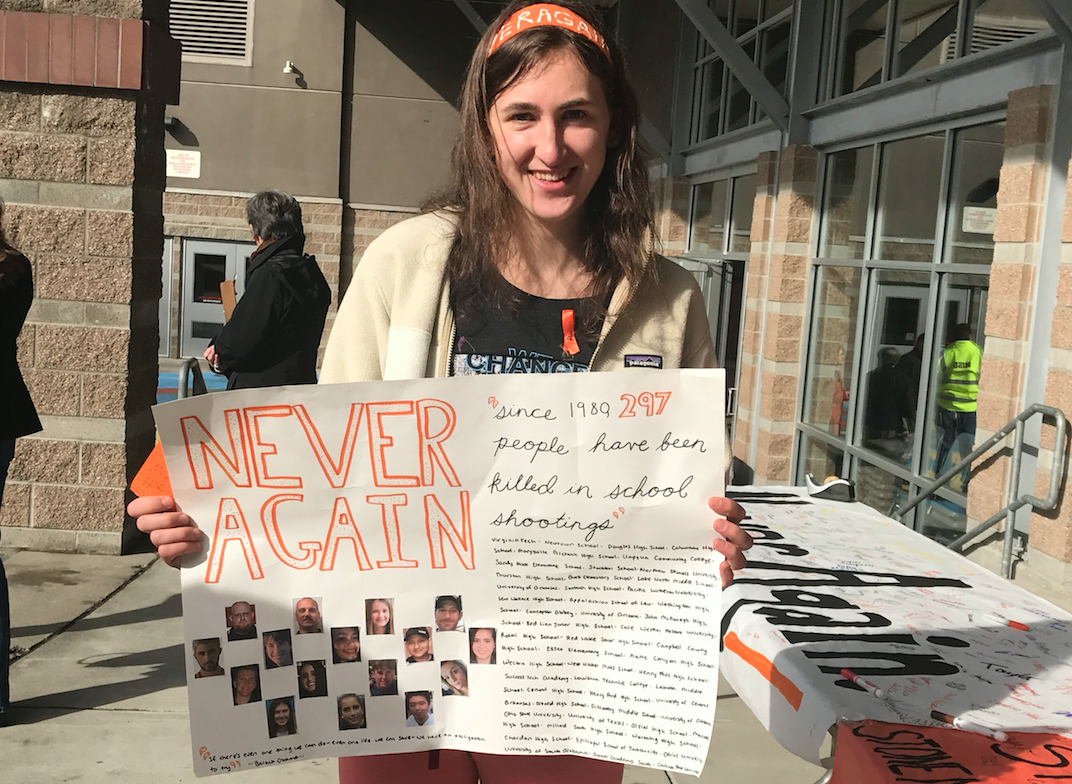 "It's really easy to think that we'll never get touched by this, it's never happened to us, it's never going to happen to us, but we don't know that," Noonie McCann noted. "I think it's really important for us to bring in the change and be the people who stop it."
Although the walkout is over, the demand for stronger gun control and safer schools grows daily. Many are calling for laws similar to those used in other countries, such as Australia, Great Britain, and Israel (read more here) to make access to weapons harder which should help to prevent tragedies like school shootings in the future.
Students who want to take the next step in this movement can participate in the nationwide March for Our Lives, which will take place in Seattle at Cal Anderson Park at 10 a.m. on Saturday, March 24.