One of Mercer Island High School's associate principals, Mark Jergens-Zmuda, recently confirmed his departure from MIHS in order to be closer to his husband and 15-month-old son, Chase. Jergens-Zmuda has worked at the school for the past three years, and tomorrow, July 21, marks his last official day with the district.
"I wanted to be closer to home for emergencies, and also the commute…I do not mind driving to work, as it is often a time for me to relax and reflect.  However, my little boy is my number one priority and I do want to be closer to him," Jergens-Zmuda said via email earlier today.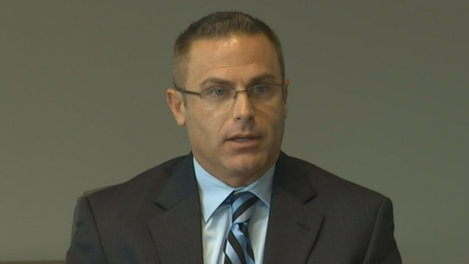 Leaving MIHS was never in Jergens-Zmuda's mind as he continued to fulfill his duties as an associate principal, even towards the end of the 2016-17 school year. "I would have gone personally to ASB and told students that I was leaving if that was my intention or had I known this would be my last year at MI.  I have had an amazing three years here and think I have pretty good rapport with students, parents, and staff. I would have loved to have said a proper goodbye," Jergens-Zmuda said.
After the school year ended, he was approached by a few employees of Issaquah High School and was encouraged to apply for an administrative position there. Shortly after he applied, interviewed and was accepted, he broke the news to MIHS administration, coaches, and other staff.
It has not yet been confirmed whether or not the school district is looking for a replacement associate principal. However, Jergens-Zmuda requests we remain patient as "the strong and dedicated administrative team works on next steps."
Many Islanders have had the pleasure of getting to know Jergens-Zmuda while he served as an administrator and as the athletics director. He has been an integral part of MIHS for the past three years, and it is difficult for many to see him leave, though he refused to rule out a return to Mercer Island. "I hope to one day be a principal of a school," he said. "If Mercer Island has that position open down the road I might apply.  It depends on where I am at in my life and if the position becomes available."
Although Mr. Jergens-Zmuda was unable to make a proper goodbye, below is a response from him regarding some of his fondest memories at MIHS:
"I have so many incredible memories.  I enjoyed going with ASB on scavenger hunts, going to see all of the sports teams perform at games (especially at state contests).  Pretty incredible to say to my friends around the state that I was the AD [Athletic Director] whose school won 5 state championships in 2015 in one weekend.  I loved chaperoning Prom this year at the aquarium and working with the Flag Dudes and even saying "Hi" to students in the hallways and at lunch.  I got to conduct the marching band [in playing The] Star Spangled Banner and travel with the Cheer team to cheer camp one year.  I got to help bring Unified Basketball and Soccer to our school and see both teams win the Special Olympics tournaments for our division.  I got to stand with my son and cheer on the girls at the state Girls' Basketball game which we won. I will miss so many students and staff.  I have been very honored and proud to work at Mercer Island H.S. and I will miss being an Islander."
---
The MIHS Islander reserves the right to edit submissions and quotes for grammar and capitalization.