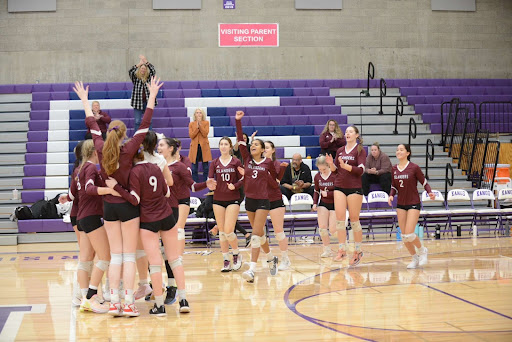 This past Saturday, Nov. 11, the Mercer Island High School Girls Volleyball team punched their ticket to 3A State playoffs, beating Bishop Blanchet in three sets. The non-conference win improves the Islanders to a 17-10 overall record and is their second win against the Bears this season. 
"We won the game 3-0 and had some knowledge about their tendencies going into the game. Our mindset was just to go in, do our business, and stay composed," senior captain Melena Wong said. 
The win prevented what would have been five seasons without Mercer Island in the tournament. The team's last appearance was in 2017–a year where Mercer Island went runner-up to Capital High School in the championship. The state tournament bid for this year was initially unexpected by Wong. 
"State was a foreign word at the beginning of the season," she said. "We have a relatively young team and a lot of our work went to strengthening fundamentals."  
This year's young squad tackled a demanding schedule. The Islanders have played 27 games this season (winning 17 of them) compared to just 14 games total in 2022.  
As for Wong, her success as a setter has made a direct impact on the team. Across all classes and positions in Wash., she ranks 11th in assists with 618 and 14th in serving aces with 68 this season. Moving into the postseason, Wong points to a few principles to facilitate success on the court as a team.
"Teams [at State] will definitely not be giving us free points with mistakes," she said. "So consistency, discipline and composure are things that we are going to be focusing on."
The team also brings fun traditions and energy to their games. 
"We are a very energetic team. We love some hype music, dance circles, random games, etc." Wong said. "Other traditions that we always have during our games are: matching hair ribbons, pregame meditating, the 'I believe that we will win' cheer and the 'Mercer' cheer," Wong said.
The 15-seed Islanders are slotted in one of the four play-in games against Central Kitsap on Friday, Nov. 17 at 8 a.m. The Cougars bring a strong 15-7 record as the 18-seed in the tournament. With a win, the Islanders will advance to play one of this year's biggest powers in the opening round, two-seed Lynnwood.