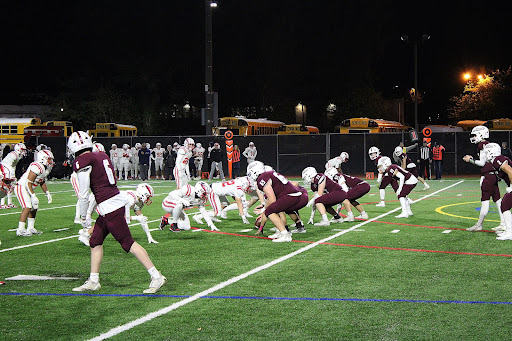 During the Islanders' Senior Night, Oct. 27, the Mercer Island Football team fell 41-0 to Juanita.
This loss brings their overall win-loss record to 6-3, placing them third in the KingCo District standings.
"I felt like our offense did not execute as much as we wanted to. We were messing around too much at practice so going forward–into the playoffs, we gotta be laser focus[ed] going in," senior Adrian Fu said. "Especially for our seniors, on Senior Night, we are only guaranteed one more game so we gotta make the most of our opportunities."
The first quarter began with a kickoff for the Islanders. During the four-minute mark, Juanita had the ball as they drove down the field. They were stopped by junior Jack Buchan, preventing them from scoring the first touchdown of the game.
At the eight-minute mark, Juanita had scored the first touchdown, putting the score at 6-0. They then scored the extra point conversion to put the score at 7-0. 
Within the 20-minute mark, Juanita took their second touchdown against the Islanders from the 20-yard line, leading their score of 13-0. For the Islanders, the first half ended in a touchdown by Juanita at the last second, ending in a 27-0 score favoring Juanita. 
The night was the All Island Band Night. The 5th-12th grade MISD bands performed at halftime both on the field and in the stands before the second half. 
When the second half started, the Islanders slowly made their way to the 35-yard mark. They tried their best to score a touchdown to no avail.
The second half ended in a defeat for the Islanders, with a score of 41-0. 
It was an unfortunate game for the audience, especially for the seniors on the football team that dreamed of going out with a bang. 
Prior to the game, each senior was celebrated, where they were given flowers as they took a photo with their family before receiving a hug or a fist bump from each coach.
"They gave me a sense of family, this team has brought me closer to more friends. Football is everything to me. Every single year I played, I made [a connection with] the freshmen, sophomores, juniors and seniors," Fu said. "Being able to mentor and to see them grow as players is just extremely valuable for me."