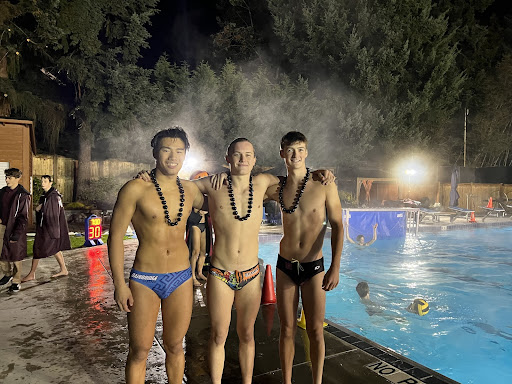 The Mercer Island Boys Water Polo team beat Bellevue 12-4 on their Senior Night, Oct. 31. 
The night was lively, with enthusiasm from the players and fans for the game. Mercer Island was eager to outplay their rivals the second they started, and quickly took control of the game. The excitement kept building with each goal scored.
"We went up 10-0 in the first half and just had fun the rest of the game," senior captain Eoin Sjothun said.
The team was able to trounce Bellevue by the end of the game, a convincing win going into competition for State. The celebratory night did not stop at the score, but was a jubilant event in honor of the seniors. The ceremony gave acknowledgement to each water polo senior, enlivened with cheers and applause from supporters as each name was called. 
"After being a spectator for the past three senior ceremonies, it felt very surreal to be the person being recognized," senior captain Ben Wu said.
This disbelief that this time had come so fast was a mutual feeling for Sjothun. They are both mournful of their final highschool season and reflect on their time playing water polo at MI positively. Sjothun is grateful for the fun times he has had with the team, and Wu is glad to feel like he had the full experience all four years. 
"I've gone from playing on JV to leading the varsity team. It's been a very rewarding experience," Wu said. 
Although sad to see the seniors go, the whole team was exhilarated about their triumphant win.  Now, the team is seeded fifth entering their state tournament. Wu was underwhelmed by the team's performance this season given the potential he sees in them, but recognizes their improvement over time. 
"My team has become a lot better at recognizing what the other team is doing and running plays," he said.
They have stamina and a drive to prove themselves, making them only more ambitious to perform well at the next level.
"We are getting better and I trust the team more, but we need to keep improving if we want to succeed at state," Sjothun said. 
The team would love additional spirit and support at their first game of the State tournament, taking place at Curtis High School at 10 a.m. on Nov. 10.