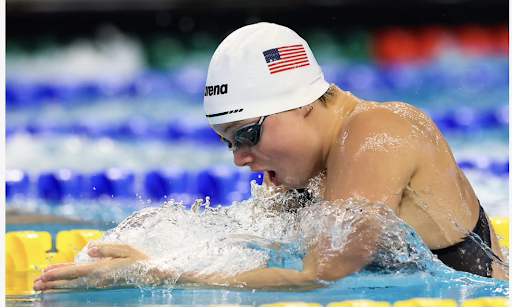 This past September, roughly 6,732 miles away from home, senior Piper Enge and sophomore Clare Watson competed at the World Aquatics Junior Swimming Championships in Netanya, Israel. On the international stage which comprised 93 member federations and the 648 best youth swimmers from all around the world, Enge and Watson wore different caps, representing their countries' flags, rather than the Mercer Island logo. 
Enge, a senior captain of the Mercer Island Girls Swim and Dive team and a University of Texas commit, swam for the United States, competing in both the 50 and 100 meter breaststroke. In the span of four days (September 4th to September 7th) Enge swam a semifinal heat which would determine seeding for the final race that awarded the top three fastest medals a day after the semifinal racing. Her racing would have to be completed while the spectacle of the event was in full force. 
"Junior Worlds is basically supposed to replicate Worlds… they have you report twenty minutes before, you're in your team USA warmups, they give you a bib that has your name on it for media purposes, during finals they have the smoke out of the walkout room… they call you one-by-one, it's super cool and as cool as it is to watch, it is terrifying to walk out in," Enge said. 
Prior to Junior World Championships, Enge competed in the Junior Pan Pacific Swimming Championships in 2022, winning two gold medals and a bronze against international competition. She's also already won a gold medal in national competition this past summer at Speedo Junior National Championships. 
In Netanya, Enge swam way to a bronze medal in the 50 meter breaststroke final with a time of 30.74 seconds and the dramatic moment played to her advantage. 
"Adrenaline always gets you going, so being at that level and having all this new stuff… by the time I got to finals I knew like 'hey this is probably what's going to happen and I just need to be ready for that' and that actually just like spiked my adrenaline and I think it helped me," she said. 
Two days later Enge placed highly once more, this time in the 100 meter breaststroke, finishing with a time of 1:07.29 minutes, just four hundredths of a second from a bronze medal again. To follow her last season as both a high school and club swimmer, Enge will be freshman this fall on the University of Texas Women's Swim and Dive team. Enge brings unique experience built from Junior Worlds to UT's storied program. 
"Not many people can go into their freshman year of college knowing they've competed internationally for Team USA and the stakes have already been high," Enge said. 
As a Longhorn, Enge will become teammate to two of the best breaststrokers in the NCAA, 2020 Olympic gold medalist Lydia Jacoby and German Olympian Anna Elendt. She brings the top time in the class of 2024 in the 100 yard breaststroke (59.12) and gets two seasons to train with Jacoby in her underclass years.
Clare Watson, in her sophomore year at MIHS, still has time to figure out what her path will be in the upcoming years. For right now, the focus is on her relationship with the sport. 
"I really hope to maintain a good relationship with swimming and continue to have fun. It gets frustrating sometimes and is also a lot of time, effort, etc. So it's important that I keep it fun so I  will continue to swim," Watson said. 
Competing for Team Canada, Watson swam both the 50 meter butterfly and 200 meter butterfly multiple times within three days. She began her racing on Tuesday, September 5th with the longer event, the 200, finishing second in her preliminary heat with a time of 2:11.64 minutes. The time qualified her for the final which hosted the eight fastest junior swimmers just eight hours after her swim. Watson finished eighth in the heat and as a 15-year old was the second youngest swimmer in the heat. 
Watson's emphasis on keeping swimming fun was key for her races in Israel.
"I was surprisingly not that nervous for my races at Worlds because I had done a lot of preparation before… Nerves have definitely affected me before when I don't feel like I'm having fun or there is too much pressure. I think the key is finding the balance between having fun while also having a little pressure to motivate you," Watson said. 
After her 200, Watson suited up to swim the 50 meter butterfly a day later. With a time of 27.41 seconds, Watson propelled herself to the semifinal where she would fall one second short of a spot in the race's final, though. 
Watson's 50 meter butterfly concluded her second ever international meet and her first meet not outside North America. Now a dual citizen, she didn't initially realize the opportunity was available at all.
"It hadn't really occurred to me that I could swim for Canada until my coach said that I should go to Canadian trials this past spring. I didn't really want to go because it seemed really weird to suddenly switch paths and start something new, but she wouldn't really take no for an answer so I finally decided to go," Watson said. 
While the idea of going to trials was foreign, changing teams and adjusting to new teammates was no stranger to Watson. She has now swum for two different club teams (Bainbridge Island Swim Club and Bellevue Club Swim Team) and helped the Mercer Island Girls Swim and Dive team win state in 2022 as a freshman.
When Watson tried out and made the Canadian team, she felt right at home despite the big honor.
"When I made the team and started training with team Canada it felt just like training with any other team and with new people. It didn't really occur to me that I was swimming for a country too. Everyone was so nice and welcoming so the transition was really easy!" Watson said.
At Canadian trials, Watson placed eighth in the 50 meter butterfly and sixth in the 200 meter and was added to Team Canada's roster after not appearing on the initial roster release. Canada's presence at Junior Worlds was their first in four years after not appearing in the meet in 2022. 
For both Enge and Watson, some of their biggest challenges are out of the water. Most of the biggest meets the two swimmers race in are often during the school year and sometimes during weekdays. 
To race for Team Canada in Junior Worlds, Watson traveled to Toronto for the Bell Canadian Swimming Trials in March, missing two days of school not including travel time. 
"I probably miss 4-6 weeks of school a year for swimming…  I don't do school work while I am at swim meets so I can focus on my swimming, but when I get back it's just about all I do for a few days," Watson says.
Enge has almost the exact same feelings and experiences as Watson when it comes to missing school. 
"If I just came back from being gone for a week and even though I really want to get back into training, I might have to take an afternoon off training to do my homework… as hard as that is for me it's something that has to be done," Enge says. 
With time and repeated experiences, Enge and Watson have created their own systems and methods that work for each of them. 
"It certainly is stressful when I miss class, but I've also gotten used to it so coming back to school is easier because I've developed more of a system on how to best complete my missing work. I'm lucky to have people at school who can send me assignments that I missed and also to have teachers who understand how difficult missing school is," Watson said.  
"At the end of the day you have to find the balance that works for you, I know what I need for my school, what I need for my grades and I know what I need for myself in the pool," Enge said. 
Now back in the classroom, Enge and Watson turn their attention back to local swimming. Next up for Watson are club competitions for Bellevue Club Swim Team. Unfortunately she'll be unable to join her teammate Piper on the high school side due to school absences.
This year's team follows last year's squad which sported eight All-Americans and ranked 14th overall in the nation across schools of all sizes public and private. The Islanders have kept busy this year with a schedule that included a travel meet in both Illinois and Wisconsin. The girls have won all eight of their Kingco dual meets thus far and look to continue their success heading into the postseason to become back to back 3A state champions.