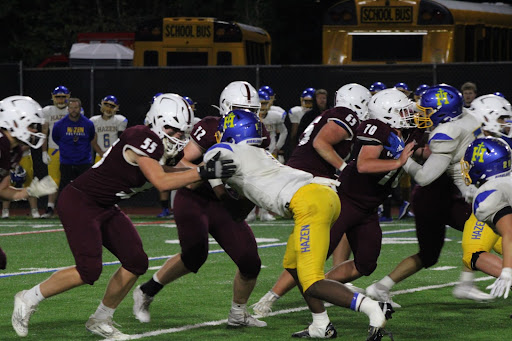 The Mercer Island Football team won against Hazen with an amazing victory of 31-7, on Sept. 29.
This marked the third win in the season, recording as a 3-2 after losing their streak against their rivals, the Bellevue Wolverines last friday. 
Audience cheered with support and excitement, the marching band performing music for the crowd, boosting the morale of the Islanders. 
The first quarter started with Hazen going first on offensive, yard penalties pushing back the Islanders, but that didn't stop them as senior captain Luke Myklebust managed to evade Hazen, successfully hitting the 35-yard mark, pushing them close onto the field.
Already at the four-minute mark, senior captain Cole Krawiec made the first touchdown of the game, letting them in the lead of 6-0. Afterwards, a point has been awarded to the Islanders from attempting to make a point after touchdown, making it 7-0 throughout the quarter.
During the 15-minute mark, senior Adrian Fu passed the ball to senior Cole Rowe, rushing a second touchdown of 23-yard mark, leading them towards 14-0.
Myklebust pushed the limits, driving through his opponents regardless of being tackled after another when holding the ball, but never stopped moving for the Islanders.
The first quarter consisted of multiple saves, tackles, penalties, subs, but during the second quarter, Hazen managed to tackle a touchdown which resulted in a 7-14. 
For the Islanders, the first half ended in a 14-7 against Hazen as the band performed an excellent performance during half-time. 
The second half then started with Myklebust and junior Tyler Williamson saving the tackle which prevented Hazen from scoring a point, along with senior Gavin Shea subbing in for junior Joe Shleifer, making his way down to the field. 
Within the 41-minute mark, the game started to heat up for Hazen as they received a personal and double foul. Islanders were now at the 50-yard mark against them. At the last minute, junior Elan Gotel managed to score a touchdown, boosting the morale of the team. Gotel received the catch from senior Spencer Kornblum, evading through his opponents, and finishing off with a 24-7 at the end of the third quarter.
Fourth quarter began with a distressing state for Hazen, giving timeouts to the game due to multiple injuries in the process, becoming serious. It became worse for Hazen as a player severely injured their leg.
Despite this, the second half ended with Islanders winning 31-7 when sophomore Hudson Sulla took the final touchdown with two-yards. It was a bittersweet moment for Hazen, but both sides played well against each other, ending off with a handshake to ensure it was a great game. 
"I [felt] great. I knew I loved to win. Winning is everything to me. I don't care about no play, I don't care about the ball, I [loved] to win," Gotel said.