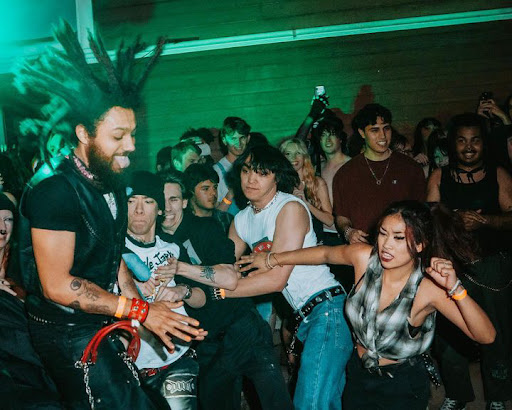 Casual concerts referred to as "house shows" have kept the soul and underground music scene alive and beating in the heart of Seattle's University District. 
The Evil House is currently holding these shows in their residential home close to the University of Washington campus–a large contrast from the church basement where they hosted their first event.
Having an interest in the lively community, encouragement from friends and "[the] 20 small elves that live below [their] floor that whisper to [them] at night that [they] have to throw house shows," the Evil House dove head-first into hosting in October of 2022.
"We work with two dudes, Sean and Kyle at PassionFruit, and they have been beyond helpful in guiding us. Our first show was with a student-run activism group called WashPIRG and our friend Colin had thrown a show before, so he helped us figure some stuff out and meet the right people," The Evil House said.
In preparation for a music-filled night, these hosts load the stage into their backyard and get to work setting up the space. With help from volunteers, light and sound crew PassionFruit and cooperation from neighbors, The Evil House is brought to life.
"We don't specialize in any particular genre. We have funky groups like MidPak, pop-rock groups like Some F*cking Vegan, pop-y groups like Cherry Ferrari, punk groups like Beautiful Freaks [and] punk rapper Nascar Aloe," The Evil House said.
Featuring countless bands from all across the greater Seattle area, these concerts have given the house a profit. However, The Evil House is more interested in the thriving community, no matter the genre, and the wonderful bonds between the people, the artists and the music.
"It sounds corny but it's honestly not really about the money. It's a lot of fun, is good for the resume, and we get to meet a shit ton of cool people. Connections are worth more than a couple hundred bucks. And we are really just pawns to the house show scene and wouldn't want it another way. Whatever this scene is, it's something special and I don't think you will find it in many other cities," The Evil House said.
The Evil House sure is a sight to see and an experience to have, with amazing local artists, community and a unique aesthetic. Flyers for upcoming shows and events can be found on their Instagram page, @the.evil.house.