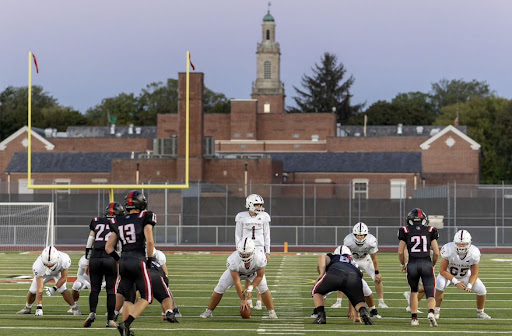 In an uncontested barn-burner last Friday, Sept. 8, the Islanders football team won 49-0 against R.A. Longview, snapping a 12-game losing streak that stretched 773 days back to the 2021 season.
Unlike the Islanders' home opener against Seattle Prep, a familiar foe, the team traveled nearly three hours and 120 miles to play the 2A Jacks. Also different from the Seattle Prep game was the Islander's stellar performance on defense with junior Charlie Chatalas snagging two interceptions. 
Senior Captain Luke Myklebust said the team "knew [their] assignments much better" and that preparation propelled the team to the win as "everyone got in the film room more and studied the playbook." 
Myklebust is currently averaging 11 tackles per game with an outstanding 22 total tackles that leads his team by a margin of 11 to Junior Jack Buchan's 9. As a unit, the defense racked up an improved five sacks to their previous zero against Prep. Myklebust thought it was a cohesive defensive performance. "There's a lot less thinking involved and just more playing," he said.
While the defense was hard to miss in this shutout, the offense also fired on all cylinders. Spencer Kornblum threw a whopping four touchdowns and even rushed for one. Through the first two weeks, Kornblum is averaging 325 yards per game. Receivers Ryan Boyle and Elan Gotel had their own parties in the endzone with two touchdowns each and over 249 combined receiving yards. 
Coming back from southern Washington with a win, the Islanders feel a new confidence, even in such a challenging two-game stretch against 4A opponent Redmond and rival powerhouse Bellevue. The team has goals to win more games and make the playoffs. 
"We know what we can do now, offensively and defensively, so the sky's the limit," Myklebust said.