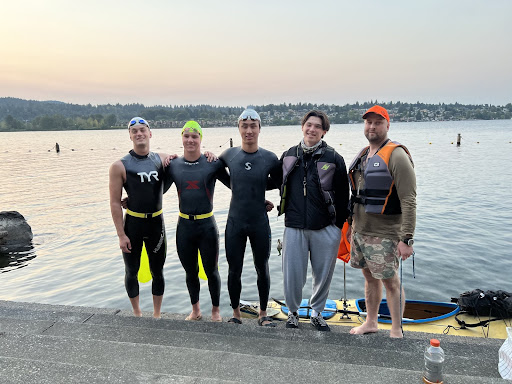 On Aug. 24, MIHS senior Jack Sieckhaus and MIHS alumnus Emmett Ralston swam 13 miles around Mercer Island in over six hours to raise money for The First Night Project. The project was founded by former Mercer Island student Harry McGovern, who started the charity to donate care packages to hospitals treating teens with cancer.
"I had the idea of doing the swim as something I just wanted to do, then I realized that it's a big attention grabber and would be helpful to use for the cause," Sieckhaus said.
"Harry McGovern, my friend, went through chemo and used his 'Make-A-Wish' to start this foundation," Siekhaus said. "It's called the First Night Project because they put together care packages for teens going through cancer treatment." 
The foundation uses its funds to donate backpacks, pillows, and other amenities to patients with cancer in select hospitals in Washington, Oregon and Idaho. Sieckhaus and Ralston's hard work and dedication paid off as their swim brought a lot of attention to the foundation throughout the Mercer Island community. 
"We had three main stops of about 15 to 20 minutes, and then we had my swim coach follow us in a kayak all the way around with food and water," Sieckhaus said. "It went a lot better than I thought it would."
According to Sieckhaus, swimming for a total of six hours and 40 minutes in Lake Washington was exhausting, and it took a lot of preparation to perform this impressive feat. 
"The hardest part was the last mile, which was really difficult because we were going against the wind," Siekhaus explained. "It was the very end of the whole thing, we were super tired, and … we had to swim against the current." 
The swimmers have raised over $4000 in the past few weeks due to their swim, and are hoping to reach their goal of raising $5000. If you are interested in supporting the foundation, consider donating using the link below.
Link for donation: https://www.thefirstnightproject.org/peer-connectors1