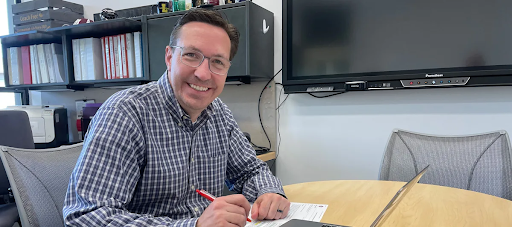 Most people don't know what the superintendent of the school district does. While teachers, bus drivers, nurses, etc. have clearly defined roles whose effects can clearly be seen by students and community members, the superintendent's administrative role is often overlooked and shrouded in mystery.
Fred Rundle has served as superintendent of the MISD since July 2022. Previously, he served as principal of Lakeridge for four years, and then held several district administrative positions for nine years, most notably serving as deputy superintendent under Donna Colosky for a year.
"[Being superintendent is] similar to being the principal of a school, except [I'm] the principal of the entire district. So there are first and foremost responsibilities for students, and that's student safety, student academic learning, student opportunities in and out of the classroom, and the overall well-being of the students," Rundle said. 
Rundle manages and oversees many different components of the district that students are unaware of, such as district financials.
"There's a financial component, so making sure that the district is financially positioned to able to pay bills and pay our district employees, but also innovate and create new programs and opportunities for our students, so it's really multifaceted and multidimensional," Rundle said.
Rundle and his team also present new policies to the Mercer Island School Board and monitor board fundamentals, which are state standards that the district has to follow. 
"The things that [the school board does are] setting the vision, and the mission and the direction of the school district. I do it in partnership with them, but then I carry it out, so they're at the policy level, setting parameters, and then I'm in charge of executing on those and moving the school district in the direction that they want to go," Rundle said.
There are always issues and topics for Rundle to discuss, such as teacher contracts, school improvement plans and implementations of board fundamentals, even when schools aren't in session.
"Schools were out on Friday [May 26], and teachers were not there and students were not there, but that doesn't mean that the District isn't still operating. So right now we're bargaining a contract with our teachers' union, so I was in some meetings about that. We are thinking about graduation and [other] components," Rundle said.
Rundle continued, "My days are very fluid, my phone is always with me, and it can ring at any moment. Some mornings it will start ringing at 5:30 in the morning because there's an issue or something came in overnight from our Say Something app, and a principal will be talking to me. Other mornings, my day doesn't start until 8 or 8:30."
However, the unpredictability is the exciting part of the job for Rundle.
"What I love about this job is that there isn't a standard day. I never know what's coming up and that is anxiety-provoking sometimes, but it's also really exciting," Rundle said.
For Rundle, the most difficult part of being superintendent is managing problems involving conflicting interests.
"I think the most difficult part is really trying to listen to and hear about and learn from all of the different interest groups in our community, and then synthesize that information and figure out what is ultimately the best decision for our students, and knowing that it's not going to everyone happy … I can't necessarily meet the needs of every single interest group, and so that can be really challenging at times," Rundle said.
For example, in recent years, the relationship has been tense between the MISD and the Mercer Island Education Association, the union that works on behalf of all MISD staff members.
"To be frank, we haven't had a great relationship over the past five to eight years between our Mercer Island Education Association and our school district. It's not that we've had bad relationships between our administrators and our teachers, or whatnot … I would characterize [the relationship between the MISD and MIEA] as there being a lack of trust, a lack of communication and engagement," Rundle said.
Because of this dynamic, Rundle makes an extra effort to visit the Mercer Island schools frequently in order to talk with principals or see students.
"Sometimes I'm making very formal visits, and sometimes they're really informal visits. A formal visit might be with board members, or it might be with me coming, and walking and visiting classrooms with a principal … Another reason why I might visit a school is just to simply check in on a class, to see some students who have invited me in, to see something they're proud of. It might be just to check in on a teacher who I know maybe is going through a hard time, and I'm just coming in to say hello to them. Sometimes it's just to go see students in action," Rundle said.
Rundle continued, "When I'm having a tough day, sometimes I have to remember why I do this in the first place, and the first place I always go for that is our students."
Above all, Rundle strives to be an active and visible leader in the community.
"I like to think of myself as being an engaged and physical leader, and superintendent in our school district. I want people to know who I am, not because I want them to know that I'm the superintendent, but I want them to know that I'm there for them. My job is to work with students and staff in the community, to make our schools the very best they can be," Rundle said.