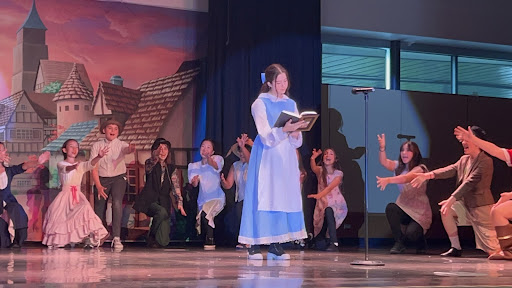 Islander Middle School presented their third annual spring musical, "Beauty and the Beast," May 19 and 20. The production is captivating, showcasing the remarkable talent and dedication of the students involved.
The cast shines in both their musical and acting skills, leaving the audience thoroughly impressed and entertained. Their ability to project their voices and emotions was commendable. It is evident that they put in a lot of effort and dedication to their roles. 
Actor Kaori Lancaster (Belle) sings with a lovely voice and tone, perhaps most notably in the cast's beautiful rendition of the opening number. Lancaster's powerful singing and charming presence enhances the overall experience of the musical. 
Each actor brings a unique flair to their performance. Lumière's (played by Olivia Nicholson) well-executed French accent and the Silly Girls' (played by Sofia Watson, Bella Liang and Shynah Sandhu) melodramatic body language are particularly noteworthy.
The costumes are high quality and well chosen, adding realism to the production. The creative team changed the sets smoothly and the lights enhanced the atmosphere of each scene. The backdrops are beautiful, creating a lively ambiance for the play.  
Avani Josyula and Sophia Mecklai, eighth graders at IMS, directed the musical and experienced a lot of hardships during the development of the play, but with a lot of hard work, the play was delivered with clarity and conviction.
"We've been working on it for the past five months, so it's definitely been a lot of work," Josyula said. "[It was] totally worth it [and] I think the hard work is what made the musical turn out so well, so I'm really glad. I was really proud of the cast for pulling it together, I think they worked really hard and it went really well."