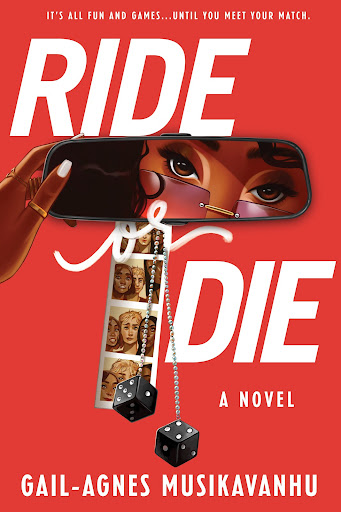 "Ride or Die" by Gail-Agnes Musikavanhu is an engaging and fast-paced mystery expected to release June 6.
The story follows high school student Loli Crawford, who entangles herself in a cryptic and potentially dangerous game with an anonymous student, X. However, as stakes rise and friendships foil, Loli must figure out what to do when the game takes a risky turn.
If you want to be entertained and have an easy read, this is the perfect book. The story falls in a perfect arc to follow easily and plot twists and interesting developments will keep you engaged the entire time.
"Ride or Die" also touches on very important topics for teenagers in this generation. The novel's protagonist is extremely impulsive, showcasing the dangers of teenage rashness. Loli makes it a personal goal to avoid stereotypical teenage tropes, but her decisions risk friendships and love. The safety of online interaction is also questioned, as in this day and age many teenagers are susceptible to dangerous connections with strangers on the internet. Loli corresponds with X over a digital platform, so she has no idea who he is or what he can take advantage of.
Musikavanhu takes advantage of this modern technology and uses a variety of artistic styles to make the novel captivating. For example, instead of numbering chapters, each chapter is titled by the name of a song in a playlist. Readers are welcome to scan a QR code at the beginning of the book that links to the "Ride or Die" playlist and interact with the novel through music. Musikavanhu also includes dialogue over platforms including AnonChat and iMessages, using different fonts and designs.
There were, however, a few things I was unimpressed with while reading. First off, the protagonist, Loli Crawford, is supposed to be a daring, independent and strong-willed female lead character. While these traits are certainly evident, her resulting character is extremely bland and uncreative. The snarky comments that she constantly makes toward other characters get repetitive and take away from her intended personality. Musikavanhu should have incorporated more variety into Loli's tone other than always being sarcastic and spiteful.
After many dramatic plot twists and wrenches within the story, the ending is very anticlimactic. The revelations are so abruptly presented that they take away from the suspense carried through the entire novel.
I would recommend this book to those interested in mystery, action, coming of age or young adult fiction. If you ignore the terrible development of the main character and keep your expectations for the finale low while reading, "Ride or Die" is a very compelling and fun read.