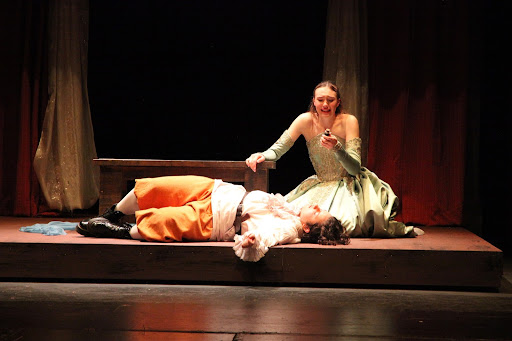 This spring, the MIHS Drama 2 class presented an extremely entertaining production of "Shakespeare in Love."
"Shakespeare in Love" is a lighthearted, funny and amusing story that tells the tale of William Shakespeare's passionate love for an actress in his upcoming play, "Romeo and Juliet." Although "Shakespeare in Love" is witty, audience members with little understanding of Shakespeare's work might have a hard time comprehending all of the references.
William Shakespeare, played by Milo Mechem-Miller in Cast Rose, begins in a state of writer's block, desperately attempting to find his muse. Viola de Lesseps, an aspiring female actress played by Sadie Jensen, takes the lead role in his play, undercover as a man named Thomas Kent.
I have little to critique when it comes to the plot of "Shakespeare in Love" as I found the story interesting and easy to follow. That said, I don't believe that this was the best choice to attract high school audiences. Although I generally wouldn't attend a play associated with Shakespeare, I was very engaged.
"I think [the play] has a great range for a high school show," Mechem-Miller said. "All of the students get comedic experience in that big clowney style that's actually a lot harder than it looks. But at the same time, there are great opportunities for more dramatic acting and romance of course."
"Because this show ha[s] double cast roles, eight of us had even less time to prepare," Mechem-Miller said "But that is the nature of theater, especially at this level, and I think that our drama program is great at staying flexible."
A lack of preparation or time is not evident during the show, as each cast member seems familiar with their lines and embodies their character well. The set is elaborate and scene transitions are flawless but what struck me the most throughout the performance was the beautiful and intricate choice of costuming for the cast.
"I would specifically like to highlight the tech," Jensen said. "The set design, lighting, sound design, costumes and props all had so much detail. So much time and effort was put into the technical aspects of the show and it truly played a huge role in making the story come to life."
The production's technical elements are very smooth, but the acting is far more impressive. Mechem-Miller's performance as William Shakespeare is realistic and authentic, throughout the show  he maintains purpose within his actions.
"Will is basically all romance and love and it's so fun to be able to go all in. As an actor, you need an objective in each scene," Mechem-Miller said. "Will had such clear objectives, obstacles and stakes that it gave me so much space to explore and refine it. Yes, he wants Viola, but why and how? That type of freedom and direction together is so fun as an actor."
The play is comical and each character plays a significant part in the plot and humor. Kit Marlowe, played by Christopher Burnside, is particularly hilarious, as he added a sassy and dramatic twist to Shakespeare's author friend. His mannerisms and choice of delivery whilst talking to Shakespeare gives the audience a refreshing break from the romance and chaos of the play.
With some background context to "Romeo and Juliet" as well as "Twelfth Night," both written by Shakespeare, this is a play that can be easily understood and enjoyed. While I don't think the production is the best choice for high school viewers, it exceeded my expectations in every realm.
This reviewer saw Cast Rose.