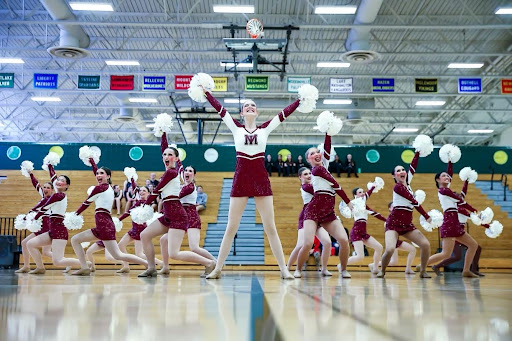 The MIHS Drill Team (MIDT) debuted new routines at the Washington Interscholastic Activities Association (WIAA) Dance/Drill State Championship on March 24 and had a very successful day. MIDT placed fifth in the military category with a score of 256.7 and performed in the pom category for the first time, winning fourth with a score of 262.5.
The team had a turnaround from last year after the loss of many members, making this even more special. "If you had told me last year it would happen, I would not have believed you," senior captain Brielle Gradek said.
This year's team focused on cultivating relationships between teammates to help them come back from last year's season.
"By far our positivity and general love for drill is what helped our team succeed this year, Gradek said. "Coming off of a pretty rough year with lots of negativity, we knew that in order to do well, our team needed to be bonded and dedicated to each other."
The team prepared for almost a year for the competition season including three local competitions, Districts and State.
"We practiced rigorously three days a week at 6:15 before school, plus extra four-hour practices on Saturdays to make sure we were in excellent shape for State," junior lieutenant Molly O'Mara said. "All of that practice might seem like a lot but it really paid off and gave us time to clean, strengthen and work on our endurance for our routines."
Placing in the pom category was particularly impressive because the team had never competed in it before. Although a brand-new dance style can be intimidating when competing against teams who are more familiar with it, the team thoroughly enjoyed learning it. "Pom is such a fun category full of energy and smiles. The music itself is bright and upbeat compared to the dark themes of military, making it overall really fun to perform," Gradek said. "There is more opportunity to radiate off of the audience's energy and give the performance everything you have,"
"We still have so much to learn about pom style and technique, and our team will only continue to grow in experience next year and in the future," O'Mara said. Each dancer's positive attitude was a major contributor to the growth of the team. "We lift each other up and continue to stay positive even when we are exhausted physically and mentally."
The team was ecstatic to be rewarded after all the hard work they put in, especially the seniors since it was their last performance at a state competition. "Placing for the first time as a senior was a feeling I will never forget. I waited all four years to hear our name called during the state awards ceremony," Gradek said.
"Kristin, my coaches, and myself had worked so hard to turn the team around this year and, in that moment, it felt like everything paid off," Gradek said. "We all cried and were just in total shock. It's a moment I will forever remember and hold close to my heart."