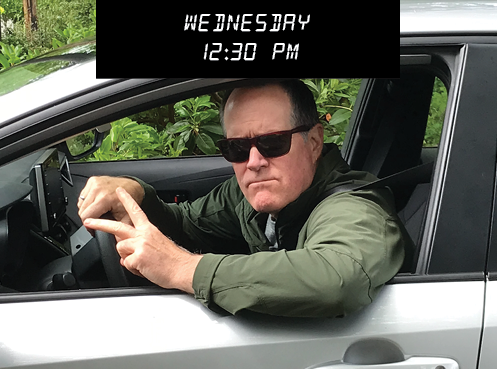 Every Wednesday, many MIHS students, especially seniors, choose to skip Islander Hour. Now, teachers are joining in.
"Why should I waste 50 minutes of my time pretending to be grading assignments when I can be hanging out with my broskis instead?," Ultimate bro and Biology teacher Barry Lencivengo said. "50 minutes is the perfect amount of time to drive to Starbucks and back four times."
Most MIHS teachers now skip Islander Hour each week, opting to chug coffee at the North End Starbucks or vodka at the Roanoke Inn. They sneak out of the school at 12:30 p.m. (trying their best to avoid being caught by Principal Wick Nold), get into carpool groups, go out to eat/drink, and return half-drunk for 6th period at 1:25 p.m.
Teachers have cliques too: all the 100s hallway teachers carpool together, with Honors Physics teacher Watty Peston driving while jamming out to Russian death metal music.
When asked why she skips Islander Hour, Peston said, "Why not? It's a 50-minute waste of time. I used to get annoyed when my students skipped, but now I've realized that teachers can ditch Islander Hour too! I'm sure my students are disappointed that I'm not there."
Peston's students had no comment, as nobody was present when I entered her classroom.
Awkward situations have arisen at Starbucks where MIHS students and teachers collide during Islander Hour. "I was waiting in line at Starbucks for my usual Wednesday caffeine boost when I felt a tap on my shoulder," an MIHS student said. "When I turned around and saw my history teacher Pyson Teters, I nearly had a heart attack."
Principal Wick Nold has attempted to punish many MIHS teachers for skipping Islander Hour by making them come to Saturday morning detention. However, this method has been ineffective, as the teachers elected not to respond to Nold's warning emails.
The Mercer Island School District has announced that if teachers continue to ditch school, they will have no choice but to make MIHS parents supervise the students.
An MIHS parent voiced concern with this idea, stating, "How can parents substitute professional teachers? I mean, doesn't teaching Islander Hour require some educational skill?"
MIHS administrators declined to comment.