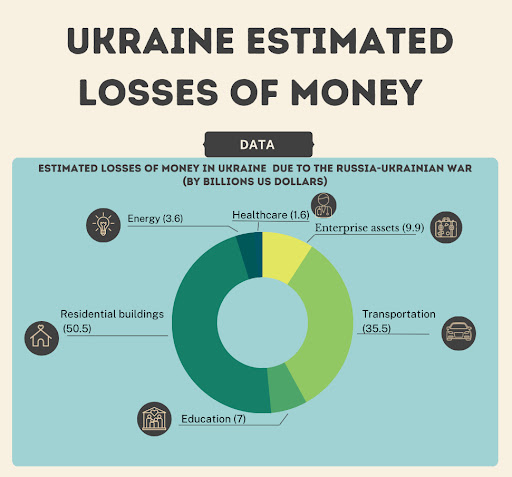 While there were originally a lot of Americans talking about and advocating for Ukraine when the war first started, the topic has become less widespread and people have become less informed.
From the Ukrainian perspective, the ongoing war started in 2014, with Russia's annexation of Crimea and military support of Russian separatists in the Ukrainian oblasts of Donetsk and Luhansk, but escalated in late February 2022 when Russian president Vladimir Putin sent 200,000 soldiers to invade Ukraine, overthrow the government and attack the capital, Kyiv, which they failed to do. Russia initially captured large amounts of land in eastern and northern Ukraine but since the start of the war, they've lost the majority of their gains in the North. However, this does not mean that the war is over.
As of January 2023, Ukrainian cities continue to suffer major attacks from Russian missiles and drones, including missile attacks launched to damage energy groundwork facilities, in attempts to rob Ukraine of energy.
The outcome of this war has been very hard to predict. As reported by BBC, American scientist and analyst Andrei Piontovsky has predicted that it will end with Ukraine winning back all of its land by spring of this year as a result of its personal stakes in the issue and the massive amount of weaponry and equipment it is receiving from Canada, Germany, and the UK. Also from BBC, Barbara Zanchetta, professor of war studies at King's College London, believes the war is nowhere near finished and that it will continue through the end of this year and into 2024. She believes the war will continue because Russia will keep attacking Ukraine but Ukraine will remain resilient. It is important to note that these are just predictions, as it is difficult to tell how long this war will drag on for.
The impact of this war raises concerns for the economy by increasing global debt and has left millions of families living in financial crisis. The economic fallout has created mass starvation in Ukraine, since Ukraine is one of the world's top manufacturers for agricultural products, per the USDA (US Department of Agriculture). Sanctions from Western and Western-aligned countries because of the war have also caused manufacturing issues in Russia that have affected many other countries. There have been increases in the price of gas, oil, soybean, fertilizer and other products around the world because Russia is a main provider of those products.
The US has been impacted by inflation as a result of the war due to the increased price of oil from Russian manufacturers, but has not currently become militarily involved.
"The United States (and many of its allies) have taken a sort of proxy war approach to the conflict," AP Comparative Government teacher Lance Kinsey said. "The United States openly hopes Ukraine can defend their borders and will give equipment and strategic support, but does not want to escalate things by officially sending in American troops."
Some have wondered whether this war could turn into World War III, due to the potential military involvement of NATO (North-Atlantic Treaty Organization), which includes 30 member countries.
"This could definitely lead to first a ground war and then a nuclear war between Russia and NATO. While NATO is technically not at war with Russia now, it is countries tied to NATO that are arming Ukraine," Social Studies teacher Jamie Robertson said. "These countries are also supplying Ukraine with critical intelligence for identifying Russian targets. This is already a proxy war between NATO and Russia."