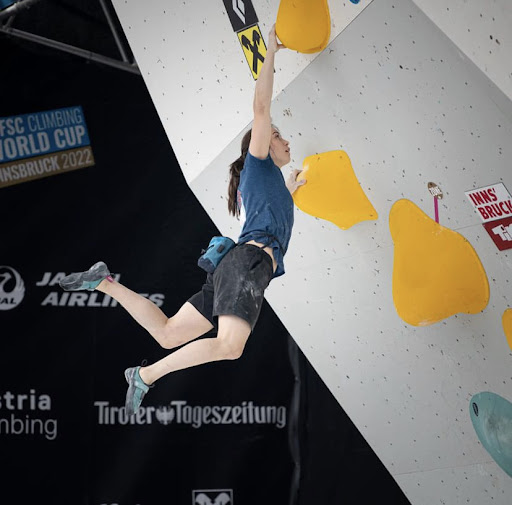 Rock climbing is on the rise in the US, with cities like Seattle and Boulder embracing large climbing communities. Competitive climbing is also becoming more recognized and watched, including a few of my favorite climbers thriving in the professional scene.
As a youth competitive climber, I love watching climbing world cups and have various climbers that I look up to whether it be for their personality, how hard they work or just being a strong and creative climber.
Natalia Grossman has become a household name in climbing over this past World Cup season. She won five bouldering World Cups in the 2022 season and continues to be a very strong competitor for the US.
"Being on the world cup circuit, I'm improving. I'm excited for more and to see where this all takes me." Grossman said in an interview with Team USA. "I'm humble and excited. There's so much to look forward to."
She's known for her positivity on and off the wall, and I admire her ability to always be smiling during comps and even after falling. Even after becoming one of the top climbers in the world, she has stayed humble, bringing a great energy to each competition and is always cheering on teammates and competitors.
Jesse Grupper is another up-and-coming athlete who's helping make the United States  a strong competitor against other countries. He's especially skilled at lead climbing, where he often wins or places high. Before joining the US national team, he was competing in local and national climbing competitions and dreamed of climbing in world cups but didn't think it would happen, until he got on the team and started competing.
"Reflecting on life, it's incredible how if you have a passion, you have to really just continue to beat it down and go after it in order to see the full fruits of that effort." Grupper said in an interview with Climbing. "I would never have thought that the dream of winning a World Cup could come true."
He's a persistent athlete that didn't give up, and now that's paying off as he has massive success and is making a name for himself in the World Cup scene.
One of my favorite climbers is Staša Gejo from Serbia. Her climbing style is very powerful and strong, which I love to see because that type of climbing is entertaining to watch. Although not as popular or decorated as Grupper or Grossman, she is probably the most notable climber from Serbia. It's also cool to see countries that are not very well known for their climbers, like Serbia, training great athletes like Gejo.
Tomoa Narasaki has had a great climbing career as one of the most successful climbers from Japan. Japan has a very strong team with skilled competitors, two of which placed on the podium in the 2020 Olympics. Narasaki placed fourth at the Olympics, and holds the Japanese speed climbing record at 5.73 seconds, which is impressive because not many climbers are so well-rounded in all three disciplines of the sport: lead, bouldering and speed. Narasaki is known for his powerful and dynamic style of climbing that's very fun to watch in competitions.
With more people becoming interested in climbing, it's interesting to see the many very talented and experienced professional climbers, and these are just the ones that stick out to me when watching competitions.