On Friday, February 10, the highly-regarded author Ijeoma Oluo spoke to the MIHS student body and staff in a Black Student Union (BSU) organized morning assembly. Oulo is the author of New York Times bestseller "So You Want to Talk About Race," published in 2018.
The assembly also featured a video detailing what Black History Month means to Black people, a performance by the MIHS Chamber A Orchestra, a speech by BSU Head Councilman Brooks Kahsai and a question and answer session with Oluo.
The MIHS Chamber A Orchestra performed the second movement from William Grant Still's Symphony No. 2. William Grant Still is known as "The Dean of African American composers" and was the first African American person to conduct a major symphony orchestra in the United States. This song is known as the "Song of a New Race" as it tells the stories of African American people in modern times and how different races are integrated into American society by infusing elements of blues and jazz into classical music.
Ijeoma Oluo gave a deeply personal speech about growing up African American, her experiences as an African American adult, why she wrote "So You Want to Talk About Race," the difference between Black history and white history, the benefit of seeing your power, how America is a society built from the blood of marginalized groups and her goals as an author and activist.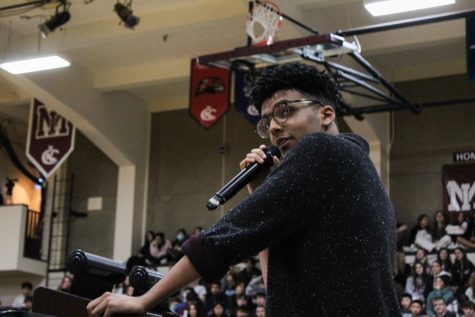 Growing up African American, Oluo did not have a single Black teacher in high school, and only one throughout college. She mentioned how she often felt isolated because she did not often see people who looked like her where she spent most of her time. She also mentioned that she did not learn about any notable Black people. "You can't be in a chemistry class and learn about Black chemists, Asian chemists," Oluo said.
She added that is this not just an experience she had, but students of color all through America feel similarly.
As for Oluo's experiences as a Black adult, she recalls anecdotes of people asking her unsolicited questions about race.
Oluo wrote her bestselling book because she found herself answering the same questions time and time again. Oluo was reluctant to spend so much time writing about race, but was inspired after beginning to ask people what issues they face when talking about race and hearing the responses of people of color.
She also spent some time highlighting the often overlooked bu incredibly important difference between white history and Black history. She says, "the history of brutality against Black people is white history."
Oluo spent some time talking about power dynamics. She mentioned how everyone has power in every situation, as long as you look for it. "You need to look at every space you're in and ask, 'where is my power?'" she said. She highlighted the importance of realizing that you have power and how to handle having that power.
The topic she spent the most time on was how American society was built from the blood and genocide of many groups of color. "This is a country built on the genocide of one group of people of color and the enslavement of another," she said.
As for her goals as an author and activist, "my goal is not to end racism. My goal is to make it powerless."