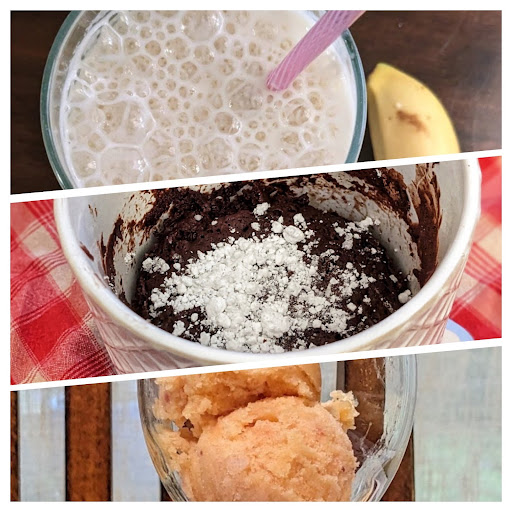 After six to seven hours of school, most students don't have the time or energy to make anything fancy before starting homework. But there are some snacks that don't need much of either—the hardest part is finding a recipe that works.
I've collected three recipes that can be made in under ten minutes and mostly don't require any cooking or excessive cleanup, making it easier to take a quick pit stop in the kitchen before continuing with schoolwork.
Microwave Chocolate Mug Cake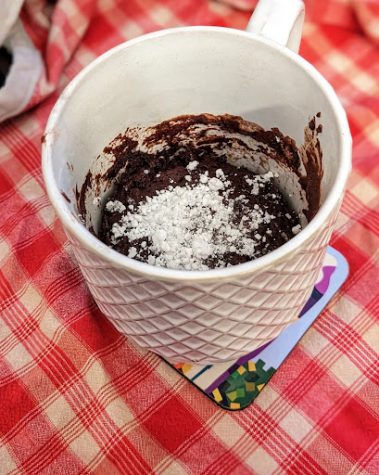 The recipe for this snack can be found on Julie Chiou's blog Table for Two. It's a convenient way to get a bite of chocolate cake without having to pull out a pan and use an oven. Chiou also links to different variants of her recipe—with peanut butter, salted caramel and even a vanilla version.
▢ ¼ cup all-purpose flour
▢ 2 tablespoons unsweetened cocoa powder
▢ ¼ teaspoon baking powder
▢ 2 tablespoons granulated sugar
▢ ⅛ teaspoon kosher salt
▢ ¼ cup + 1 tbsp. milk
▢ 2 tablespoons vegetable oil
▢ 1 tablespoon hazelnut chocolate spread or mini chocolate chips
Banana Milk Smoothie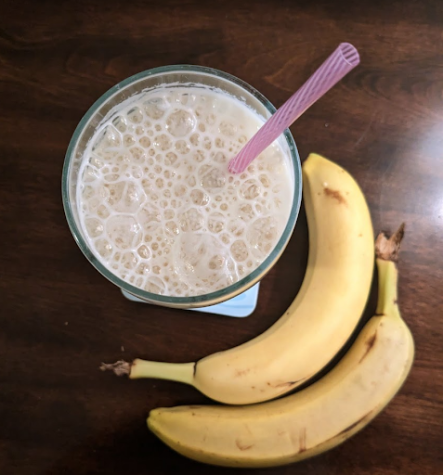 This recipe is probably the easiest on this list, and the one with the least ingredients. All you need is some milk, sugar and a banana. It's especially a great way to use overripe bananas.
Ingredients:
▢ 1.5 cups milk
▢ 1 medium banana
▢ 1-2 tbsp brown sugar
▢ Pinch of cinnamon
Combine everything in a blender, then adjust the sugar and cinnamon to taste. You can also add strawberries, blueberries or other fruits.
Mango Berry Sorbet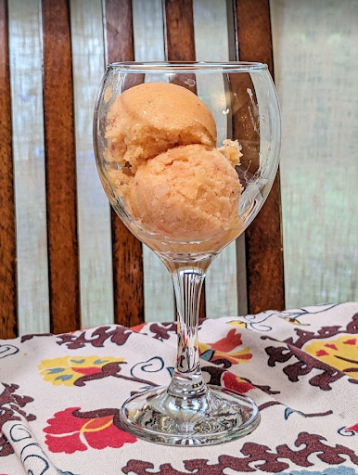 This recipe is adapted from the Minimalist Baker's 3-Ingredient Mango Sorbet. The original recipe calls for four cups of fruit instead of five, and omits the frozen berries. Since this sorbet garnered a lot of attention I added one cup of berries, which increased the yield without needing additional maple syrup. I also added fresh mint, making it more suited for the summer months than anything else, but still enjoyable whenever. It's ideal for those five-pound bags of frozen fruit, and easy to make without an ice cream maker.
Sorbet is a highly forgiving dessert, meaning that this recipe can be customized in myriad ways (the mint can be replaced with basil or another herb, the fruits can be swapped out, etc) but I like mango because its texture is perfect for sorbet—it won't turn to soup when blended unlike fruits with a higher liquid content such as oranges or watermelon.
Ingredients:
▢ 4 cups frozen mango
▢ 1 cup frozen berries
▢ ⅓ cup lemon juice*
▢ 1/4 tbsp maple syrup**
▢ 4-5 stalks of mint***
Chop the mango into tiny pieces. A food processor is generally better than a blender because it has larger blades.
Add the berries and blend until combined.
Pull the leaves off the mint stalks and blend them with the fruits until they're shredded into tiny pieces.
Add the maple syrup and lemon juice and blend on "low" for a full minute until smooth.
Modifications and substitutions:
*You could swap this for orange, lime or another fruit juice—the purpose of the lemon juice is to balance out the sweetness of the mango.
**Good substitutes include honey, sugar and corn syrup.
***If you don't have fresh mint you can substitute this for one-fourth cup of cold mint tea.
I hope this list has inspired you to try new snacks, and that you will look for more recipes to attempt in the future.