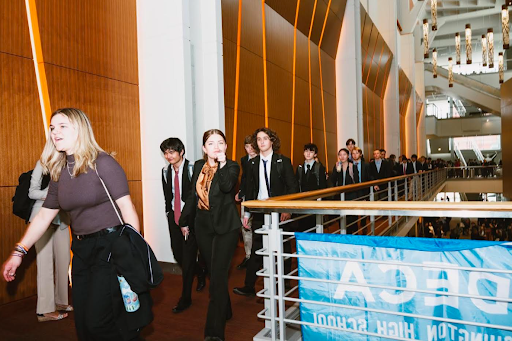 MIHS' DECA chapter participated in the Area 3 Conference on Jan. 5, 2023, against 9 other schools from the East side of King County. The competition was divided into two sections, the individual series and team decision making.
"We are so proud of these students. They did stupendously well. I'm always impressed with how they can get up in front of the judges and perform wonderfully," co-advisor Jen McLellan said.
57 out of 287 MIHS students advanced to the Washington state competition, including Kathy Shao, who placed first in Marketing Communications. The 57 confirmed students are in the roleplay category, where students simulate a real-world pitch to solve a problem. However, complete results are still pending. "We're waiting on the results of all of our research papers…along with a couple other events that need to be judged in greater depth. Hopefully we'll hear those results in the next couple of weeks," McLellan said on Jan. 13. "I would expect 60-70 kids [total] to qualify for state."
Last school year marked DECA's return to an in-person competition since the beginning of the COVID-19 pandemic. This year, while the main conference was fully in-person, it did feature a virtual awards ceremony—but not for health reasons. The building where the conference is held, Meydenbauer Center, has become too small to hold the rising number of DECA students. "We've grown so large that we actually can't run an awards ceremony anymore–we can't fit into the space that we utilize at the main Meydenbauer center," McLellan said.
She says the coordinators of the event have begun to consider other options. "We can start to reassign school districts to areas…It's under discussion as to how it will end up next year," she said, adding that she misses being able to celebrate the students who make it to state in a real-time awards ceremony.
The state level conference will be held on March 2-4, also at the Meydenbauer center. About half the students participating will advance to the international conference.
The International Career and Development Conference (ICDC) will be held in Orlando, Florida, from April 22 to 26. "It's really incredible to see that [event]. There'll be 18,000 DECA students from around the world in that conference center…It's so great to see these kids all in professional wear—they're incredible," McLellan said. "We are really fortunate at Mercer Island High School–they're an engaged group of students who are interested in extending their business skills."