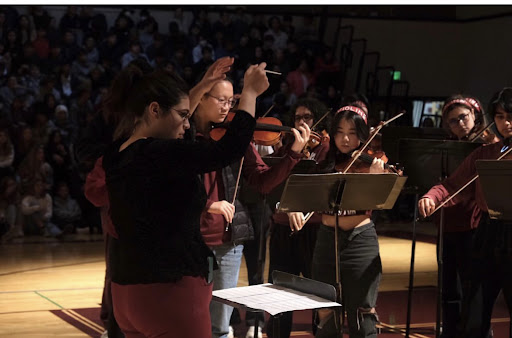 Lillian Hollyday is the new Mercer Island High School orchestra teacher, following Vicki White-Miltun's retirement last year. Currently she is teaching the Chamber, Philharmonic and Symphonic Orchestras at the high school as well as the eighth grade middle school orchestra and the 5th grade elementary orchestra.
"[I] started cello when I was ten, moved on to double bass when I was 13. I currently take violin lessons outside of the school day. I've been playing violin for about seven years," Hollyday said. She has even played in the San Antonio Symphony.
Currently, Hollyday hopes to create a distinctive environment in the orchestra program.
"[I hope] to bring a sense of unity, belonging, and shared sensitivity to the classroom, through music," Hollyday said. "[It is important that] this integrity that music requires is carried out into the world by students,"
Hollyday has big goals for this school year for orchestra students. On Feb 5, MI Chamber Orchestra is hosting a yoga class where the orchestra plays during the class.
"Guests will have the opportunity to bring a yoga mat and relax to the healing sounds of live music, while being guided in practice," Hollyday said.
Later this school year, the entire MIHS Orchestra will to travel to Anaheim, California, to participate in a festival and recording session.
"The MI Orchestra will be performing at the Heritage Festival in Anaheim, followed by a Disney recording studio session with a Disney conductor. Students will have the opportunity to work through several recording processes and receive their recording when they leave," Hollyday said.
Hollyday likes to invite students who are not in orchestra to come to the Orchestra concerts. "[I want students] to see the incredible music making that takes place in Orchestra," Hollyday said.
MIHS orchestra's next concert is Tuesday, Feb 14, at 7 p.m in the PAC.