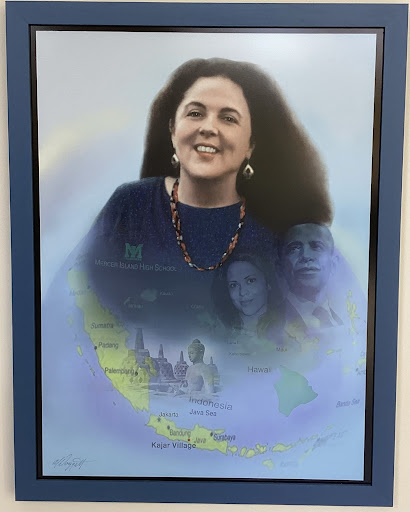 Stanley Ann Dunham, the mother of former President Barack Obama, inspired a scholarship fund in her memory whose mission is to empower young women to be active citizens in education and service.
Stanley Ann Dunham's family moved to Seattle in 1955 before landing on Mercer Island in 1956 for the sole purpose of attending the new Mercer Island high school. In high school Dunham was known for challenging the status quo and being wise beyond her years. She graduated from MIHS in 1960 before moving to Hawaii with her family.
Michelle Flowers-Taylor, the Stanley Ann Dunham Scholarship Fund board chair says, "The board and advisory board seeks to support female identifying young women who show a commitment to the principles through their academic studies and volunteerism that Dr. Dunham personified during her life.
As an anthropologist, Dr. Dunham believed in serving people who have been oppressed and/or marginalized, promoting social justice and the rights of women, organizing and empowering communities, and respecting and understanding diverse culture."
The Stanley Ann Dunham Scholarship Fund has been awarding scholarships to Mercer Island High School, Chief Sealth International High School and Rainier Beach High School to students who demonstrate these qualities. Flowers-Taylor says this scholarship "offers financial support and mentorship to female identifying young women poised to be leaders of the future" and "empowers female identifying young women to be leaders and active world citizens through education and service."
Flowers-Taylor believes that honoring Dunham is important. She said, "Her role as [Barack Obama's] mother was very important and worthy of honor" and goes on further to say, "I feel it is important to honor Dr. Dunham because of her focus on helping women to boost their economic and personal empowerment around the world." Dunham led a varied life through her time at MIHS, as a mother, and through her work as an anthropologist.
Though Dunham died in 1995, her legacy lives on with this foundation's scholarship. On Nov. 29, 2022, on what would have been her 80th birthday, a celebration was held next to her portrait that hangs near the main office. "As part of the celebration, MIHS student leaders will read essays reflecting on Dr. Dunham's life and legacy," Flowers-Taylor said.
Stanley Ann Dunham's life has led to this foundation and scholarship which mentors and encourages young female identifying women to be leaders and activists in their communities and world.