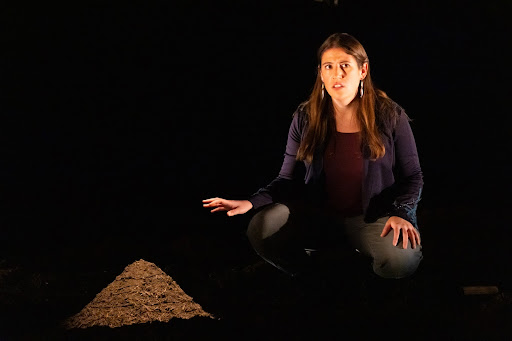 This September, Seattle Rep housed Mohegan storytelling artist Madeline Sayet's "Where We Belong," an intimate solo performance piece. "Where We Belong" explores the intergenerational effects of colonialism on modern Indigenous people through stories and observations from Sayet's journey traveling to England to pursue a PhD in Shakespeare. Following a debut at Shakespeare's Globe, the play is on tour across the United States, performing at The Public Theater in New York later this year and the Oregon Shakespeare Festival in 2023.
"Originally, when I wrote the piece, it was just to process something for myself," Sayet said. "I had never written something personal prior to this, so it was really stressful working on it alone. The more I have been able to be in conversation with other people around it, the more it has created meaning for me."
Sayet originally planned to work on other projects while on tour, but she quickly found that balancing performing with other work is not sustainable. "During the tour, I originally thought I would write my commissions during the day or direct zoom workshops and it is actually not possible to do that or the show would be really bad. I would not be present onstage at all."
"As somebody who is usually a director, that was a really important lesson for me about what it takes out of performers for them to do their jobs well: if they use all of their creative energy on something else, they will not have that energy anymore."
Although the text is the focus, the play utilizes many other theatrical elements (lighting, music, etc) that contribute to Sayet's journey. "There are Mohegan symbols and a cultural philosophy woven into all of the elements of the design. It kind of still works if it is just me standing in space, but the other elements help give people accessibility to the story."
"The score traces my emotional arc in a way that gives people easier accessibility to what it is that I am going through. We crafted it with Erik Schilke, who is usually an electronic composer as opposed to a sound designer. Asa [Benally] has woven really specific Mohegan symbols and things into the costume. The lighting and set are designed to create a sense of the space between different elements (river, sky and land)."
Sayet mentions that her father is Jewish in the text, but she does not discuss how her Jewish heritage interacts with her Native identity. However, this is a conscious choice. "There were a couple of blog reviewers who were clearly offended [that] I do not talk about being Jewish in the show, but the show is not about that."
Since Sayet focuses on her mother, some of these reviewers have stated that her father is not a part of her life; however, this assumption is completely false. "Leave him alone!" Sayet said. "He is just not in the play. There is this tricky little thing that everyone assumes that this is the entirety of my life's journey in the play, but in reality it is a very finite story that I have decided to tell."
As the show grew, Sayet collaborated with other Native artists to make sure the story she tells represents her community accurately, while acknowledging that every experience is singular. "I actually did a series of workshops with other Native artists reading [as] me," Sayet said. This helped her make sure that the text "feels good in community as opposed to just by myself."
Seattle Rep strives to make art as accessible as possible by offering Pay What You Choose tickets and $5 TeenTix tickets on the day of each performance. The theater also offers free tickets for self-identified Native individuals to all of its productions. This program increases accessibility, but it can also influence shows' content on a nightly basis, particularly that of "Where We Belong."
"There is usually at least one Native person in the audience," Sayet said. "I know that might sound really small, but it actually makes a big difference because if there is one Native person responding, even one, it changes the way everyone else listens."
"If [the audience] is only old white people, it can actually become really difficult. Even if it is just all college students, it is a lot easier because there are things you are trying to figure out at a certain age."
Sayet believes that more equitable theater practices can be adopted across all stages, from high school programs to professional venues like the Rep. "It is always about thinking about folks that you might not be including. Recently, I was thinking a lot about my sister. I got involved in theater because of her, but when we were in high school, I quickly got better parts than her because she only had one arm."
"At the time, I did not think that deeply about the fact that I had never seen someone who looked like her onstage. Those things are always coming up at every age and every stage of your career. How might this be excluding somebody and how can we shift that? Who can we actively be including?"
It is important for theaters to make space for a diverse range of artists, but it is also critical to diversify the stories that are given a platform. "If you only ever have one experience you are listening to, it limits your own possibility for growth and understanding. Your mind is being expanded every time you interact with people from other experiences, and why wouldn't you want more possible stories instead of less?"
Sayet believes English classes should apply these ideas when curating the stories and voices to include in their curricula as well. Sayet is incredibly passionate about Shakespeare's texts, but she strongly advocates for other playwrights to be studied in schools alongside him since most English classes fail to expose students to theater outside of Shakespeare's canon.
"Shakespeare is often the only representation of theater and the only representation of poetry that people are taught in schools, or the dominant one at the very least. That means that there are a lot of people reading [his work] and thinking, 'Oh, theatre is not for me,' or, 'Oh, poetry is not for me,' because that is the only opportunity they are getting to experience it. I do not think Shakespeare is going anywhere, but I think if we are going to hit Shakespeare, we can read him once instead of six times and think about what else we can be including."
MIHS is making strides in this direction—last year, the school began offering a Race, Identity and Representation in Comparative Literature class for seniors and the general English curriculum has started including writers with a more diverse range of experiences.
"Lived experience has to come from the mouths and minds of the people involved in the story," Race, Identity and Representation in Comparative Literature teacher Daniela Melgar said. "Shakespeare is amazing in so many ways, but you cannot fully address issues of race and gender when a white male is telling the story."
"As educators, we have to expand our knowledge and teaching practice to include the voices of new authors," Melgar said. "There is this fear of losing the canon of literature, but we can also embrace new members of the canon."
However, this does not mean the work is complete. "Representation is not just about, 'Oh, we need to even this out numerically.' All of these different things connect with different folks in different ways," Sayet said. "There may be a non-Native kid who decides to become a poet because he reads Natalie Diaz [and] would never have done that by reading Shakespeare."
Sayet hopes that students understand the power of their unique perspectives, something she struggled with in her youth. "No one [should] ever be taught that x, y and z are the best of all writers and everyone should try to mirror [them]. Maybe there are poets and playwrights who do not exist because they thought Shakespeare was the only way to do it."
"When I was your age, I did not think my voice mattered at all," Sayet said. "I was acting to actively escape who I was. Any story can have a revolutionary effect, just think about how you are telling it, why, what questions you are digging into and what you are exposing."