Dress Codes Need to Go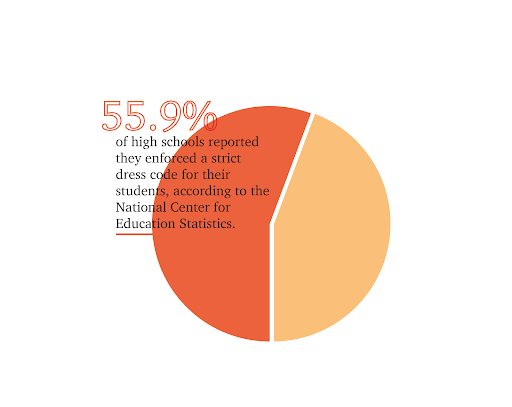 In schools, dress codes are often put in place to help maintain a safe learning environment. In actuality, dress codes tend to unfairly target certain demographics of students, unfairly controlling how students show off their bodies.
While the MIHS student handbook does technically prohibit "unreasonably revealing or immodest clothing for the school activity involved," it is widely known that this dress code clause is not strictly enforced. Recently, however, some students at MIHS have found themselves dress-coded by teachers citing this subsection.
While the intentions of fostering a strong learning environment through dress codes might be reasonable to some, research has shown that dress codes tend to heavily target female students, students of color and students with a naturally curvy body composition.
Students deserve to learn in an environment where they feel comfortable in their clothing. The idea that a student's shorts length or shirt length is directly related to one's learning capability is also a troubling warning sign. 
If young women specifically are being told that they need to cover up their bodies so others in the room can focus, that means that they have to deal with the burden of someone else's idea of how they should display their bodies. Ultimately, it is their responsibility to decide how they want to dress. The consequences of others' perception shouldn't fall on them.
Another commonly mentioned issue with dress codes is their founding principle that seeing others' skin is distracting and inappropriate. While dress codes are meant to appease this concern, is it really an issue that we need to appease? 
It seems that the best course of action in this situation is to examine why someone else's skin has become something deemed distracting in the first place. Most people see this as inappropriate sexualization.
"That's so creepy that you're sexualizing minor's bodies," senior Caroline Capuano said. "It's their choice, [and] you're the issue, not them."
Capuano also points out that some MIHS student groups, often regarded as higher up in terms of social standings, can get away with wearing clothes prohibited by the dress code for drugs and alcohol references. However, many young women are still getting called out for trivial facets of their clothing. 
"[With the] social hierarchy of Snail Pound dudes and all those guys, … they get away with wearing … those drug references, inappropriate shirts for teenagers to be wearing that I don't specifically really have a problem with, but I would be surprised that the administration has more of an issue with that than [how] girls [display their] bodies," Capuano said. 
However, not all people hold such a strong opinion on dress codes. MIHS math teacher Kate Yoder takes a neutral stance on student clothing, but her ultimate barometer is whether the outfit distracts other students or teachers.
"It's not a matter of body image, it's not a matter of sexuality. What it comes down to [for] me is [if] it's distracting from the learning environment. The best thing I can think of is if you had teachers who wore any of those things, would you as students find that distracting?"
While using the example of a teacher's outfit is an interesting comparison, it's also important to keep in mind the difference in occupation between a student and a teacher. A teacher is expected to keep attire work-friendly, while students are only expected to wear appropriate clothes. 
Recently, there has been formation of a Dress Code Committee at MIHS to try and add direction to the fairly non-existent dress code. While this committee currently only consists of teachers, students will soon contribute to the group as well. While the committee has mainly been formed to police drug and alcohol references on shirts, there are also some teachers concerned with lengths of clothing articles. 
"I just hope that … all the parties engage and listen to each other," Yoder said. [I hope that they] try and see the viewpoint of the other person."
A new dress code will need to be enough to satisfy teachers in creating a 'school-focused' environment. However, emphasis should be placed on making students feel safe in their clothing choices. We're all high school students, capable of making mature and responsible decisions. Ultimately, the choice of your clothing coverage should fall solely in your hands.