Mercer Island Girls Lacrosse Defends State Championship Title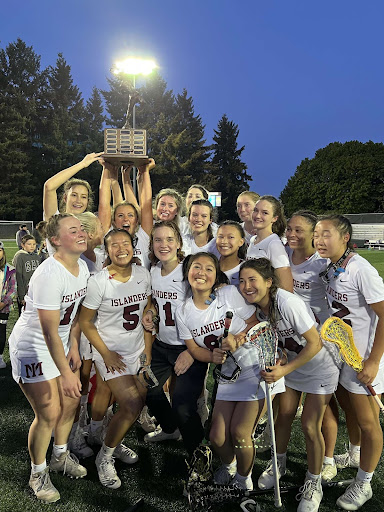 On Friday, May 20, the Mercer Island Girls Lacrosse team took home their second consecutive Washington State Championship title against Issaquah High School.  
During the regular season, Mercer Island was working overtime in order to make it to the state championships. 
"The start of our season was rough, our very first game we lost which was also our first loss in four years," said Molly Brodsky, a senior captain. "But after that we really put in the work and the efforts helped us win the rest of our games in the season."
Mercer Island secured their lead within the first half of the game, ending the half with a score of 9-2. 
"[At] halftime my coach made sure to reassure us we can win this game if we continue to play how we started it," Brodsky said. 
Despite Issaquah's aggression and attempts to fight back, Mercer Island kept their momentum and limited Issaquah to one goal in the second half. 
"Our state championship game was some of the best lacrosse we have played all year," junior captain Jamison Drayton said. 
Because of their hard work and motivation, the team played an almost undefeated season. To remain state champions, the MI GLAX team implemented weekend practices into their schedule and focused on bringing high energy to every practice. 
"Overall the team played really well this season. We only had one loss," Drayton said. 
Brodsky was named most valuable player after being the leading scorer, scoring six goals for Mercer Island. 
"The program and team has developed so much in the four years," Brodsky said. "And although each team performed very well, each team also played so differently."
With a final score of 15-3, the team beat Issaquah with flying colors. 
"Postgame my coach talked about how proud she was of us, and how we deserved this moment because of all the work we put in," Brodsky said. 
With four seniors leaving the program, keep up with next season to see if Mercer Island Girls Lacrosse can continue this state champion streak.