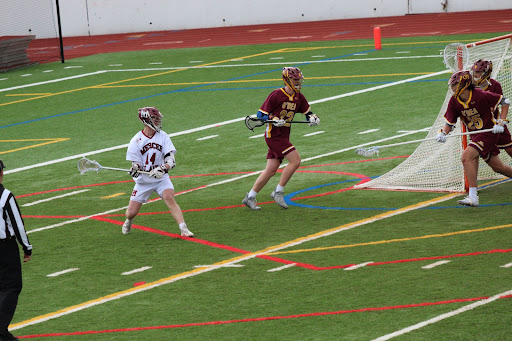 In a close game against the O'Dea Irish, MIHS Boys Lacrosse wins 4-3 on Saturday, May 7.
The Islanders prepared for this game and expected the game to be a close match.
"We built a plan around Zane Hitch, one of their best defenders, we looked to bury him in the crease when we could," sophomore Peyton Jordan said.
After finishing the first quarter 0-0, the boys decided to make a change to their original plan for the better.
"During the game we changed our approach on clears sending off Henry Dumler and Callum Neher on [a play called] Bama," Jordan said. 
Junior Callum Iverson and Jordan worked to change that zero into a two to finish off the first half.
The Irish scored their first goal to start off the third quarter but Jordan scored his second goal to make the score 3-1 at the end of the third quarter.
O'Dea scored two more goals making the score 3-3, but junior Max Hughes scored and got the team back to a lead to win 4-3. 
"We were satisfied to win, but we were capable of winning by more," Jordan said. 
Now they are moving forward with their season and preparing for playoffs.
"We prepare for one game at a time for the playoffs so right now we are looking day by day. We have a first-round bye but we are watching film and getting ready for the quarterfinals as quickly as possible," Jordan said.