MIHS Baseball Wins on Senior Night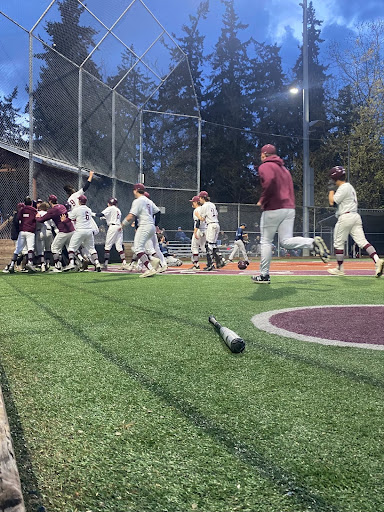 Mercer Island High School Baseball barely secured a win on Senior night over Interlake on Wednesday, April 28 with a final score of 8-7. 
Senior night brought a roaring crowd of fans, full of parents and students celebrating the 11 Senior players. 
Senior Colin Shea started off the game pitching, with a rocky start, letting up a run which put Interlake up 1-0 going into the bottom of the first inning. 
"Some of our weaknesses were throwing strikes," senior Jack Varney said. "We were letting guys get ahead for them early but I think we really battled. We kept our energy up and we were ready to go." 
The Islanders' defense, along with Shea's pitches, drastically improved, preventing Interlake from cushioning their lead. 
Islanders tied up the game at the bottom of the second inning and a successful hit from Jett Mai allowed the Islanders to gain two more runs, and later secured one more, which put the Islanders ahead 4-1 going into the bottom of the third.  
Interlake's batting shined during the bottom of the fourth inning as they caught up to the Islanders' lead; entering the fifth inning at 5-5 with an uprising sense of tense energy.
MIHS barely slid by, bumping Interlake ahead 6-5 going into the sixth inning. Interlake quickly caught up to their lead and pushed themselves ahead 7-6 but ended the inning with multiple pop-flys. 
MIHS dugout and fans were avidly cheering, providing Islanders with ambition. Varney managed to hit a perfectly placed ball that soared past the fence in right field. His home run tied the game 7-7 at the bottom of the 7th inning. 
"[My Senior season has] been my favorite season by far and [I'm] enjoying it so much every moment I've had has been a blessing," Varney said. "I love the group of guys we have and I'm hoping to make a run with them." 
Junior Marques Abulhosen managed to steal home as the catcher chased down his dropped ball, putting MIHS ahead 8-7 to win the game.