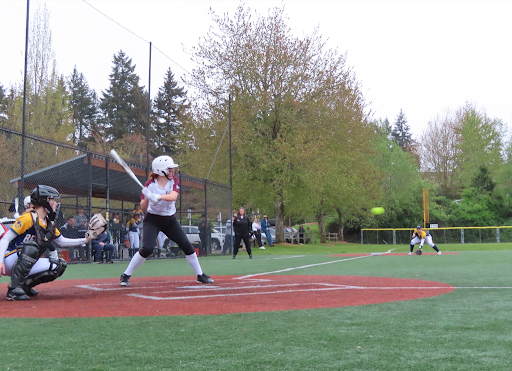 MIHS Softball endured a bitter loss against Bellevue on Senior Night on May 2 at the South Mercer PlayFields.
Head Coach Amanda Mattocks, Assistant Coach Carla Barrokas, and volunteer Charles Kerr addressed each of the three graduating seniors, Ally Merrit, Mimi Pietila, and Jaime Goodwin with words of admiration and gratitude during the pregame Senior Night Ceremony. 
Sportsmanship was consistent throughout the event, starting with the MIHS seniors gifting the Bellevue seniors bouquets of flowers. To signify the start of their last home softball game, the Islander seniors' parents each threw out a first pitch, caught by their daughter on home plate.
The game started off on a rocky note. Pitcher, freshman Stella Rodman began the game with energy and grit, but began to struggle to keep her aim in tact. The team let up seven runs, Bellevue having success when batting and aggressively stealing bases.
"I think [we could have improved by] just staying a little bit more composed and trying to keep the mistakes to a minimum," Merrit said. 
Sophomore Ashlynn Powell subbed in as pitcher for Rodman and quickly concluded the first inning, with MIHS trailing 0-9. 
For a number of consecutive innings, the Islanders came close to scoring but repeatedly accumulated three outs before reaching home. Going into the top of the fourth inning, the score was 0-12, with Bellevue in the lead and the Islanders remaining scoreless.
That was until Sophomore Sophia Pacceca hit a low ball between 2nd and 3rd base, getting herself to first and Merritt home, finally putting the Islanders on the scoreboard.
"From tonight, definitely my favorite memory was getting home and being the only run. That was so great for my senior night," Merrit said. 
"We've definitely played cleaner games but I think taking into account the pressure of senior night plus our rivals, I think it was just a little too much pressure."
Regardless of the score, the Islanders remained in good spirits, keeping the energy and effort high, and cheering each other on with unwaning support. 
"I think tonight we really excelled at keeping a positive attitude and continuing to cheer everyone on," Merrit said. "The dynamic was great [in the dugout], it's always great. I love being in [there]. It's always super loud, everyone's screaming."
Although efforts persevered, the Islanders failed to improve their score, resulting in a mercy. Bellevue took the win with a final score of 19-1 by the end of the fifth inning.
Despite the loss, the MIHS Softball Program is excitedly looking forward to next season as it anticipates the long-awaited construction of a new field.
"Mimi and I advocated and went to a bunch of board meetings to try and get this new field sorted out, and it's official, they're gonna start construction this summer," Merrit said. "Mimi and I will not have the field to play on but we are leaving it for all the other kids."
MIHS plays next in their playoff debut at Sammamish High School