After eight performances all over Mercer Island, Puget Sound Band has booked their biggest performance yet. The student band will be playing at the MIHS prom on Saturday, May 7. 
Puget Sound Band is composed of four MIHS students: Quinn Haba with lead vocals and rhythm guitar, Alexander Aylen as the bassist, Matthew Pangallo with lead guitar and Aidan Hart as the drummer. 
The start of 2020 marked the beginning of the band's career. Since then, the boys attribute their growing success and the opportunity to perform at prom to their dedication and hard work. 
"We have worked really hard to make [prom] special and we hope to create a truly memorable event," Haba said. "We have a setlist full of what we believe to be the most suitable rock and classic rock songs that are all about just having a good time and hopefully some boogying."
Prom might be the biggest gig the band has gotten to date, but it is just part of the band's story. Though the boys came together as the Puget Sound Band in 2020, each member has individual reasons for why they started playing music; whether it be due to parental encouragement or initial interest sparked from music lessons.
"I really didn't know how to do anything, bad at sports and that stuff. So my mom said, okay Matthew you have to get some sort of talent: play the guitar," Pangallo jokingly said. "I didn't listen until when I was 13, I picked up the guitar and I looked up 'guitar lessons for beginners'… I first [played guitar] for my mom, and then gave in and developed a passion for it."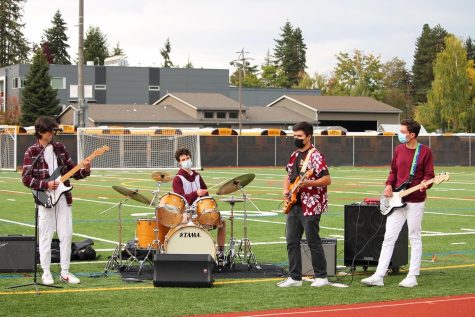 Similar parental guidance led Hart to pick up the drums.
"When I was super young, I was super uncoordinated and couldn't catch anything, so my mom signed me up for drum lessons to get some type of coordination," Hart said. "I stuck with [drumming], and hopefully I'm much more coordinated now."
Aylen soon joined Hart in practices after his piano teacher suggested he played bass to join Hart's middle school band. During the same time, a music technology camp and another impactful music teacher inspired Haba's passion for piano, guitar, and music in general.
"Now that all of our musical past and present have come together, our main musical drive just comes from that we love to create music," Haba explains. "There's an absence of self-directed music at the school. The band program is huge … [but] the student band scene [at MIHS] died out, and we sort of want to revive that. But mostly we just love playing music."
Playing at prom has been more challenging than the band anticipated; inconvenient AP test scheduling and combined stress has contributed to many difficulties. 
"Ultimately we are all going to think it's worth it, because a student band playing prom is not something everyone gets to do," Haba said. 
The band's combined love for music, hard work put into the setlist and fun attitude towards their performances will all be highlighted and put to the test this weekend as seniors celebrate at prom dancing to the Puget Sound Band's rock n' roll.