Sustain Snail Sovereignty: A Rebuttal to This Osprey Nonsense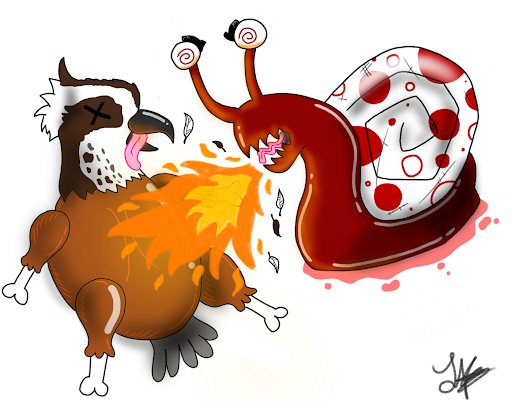 For the past 40 years, our lovely mollusk mascot has been a staple of Mercer Island spirit, community, and pride. Changing it to a bird brain? If it ain't broke don't fix it, and the snail is more than sufficient. 
Sure, the retired school snail logo is retro, but it reminds us of our spirited past celebrated with such an iconic design. The genius artwork representing an island, snail, and the letters "MI" may no longer officially be in use, yet it lives on through the spirit wear of our unparalleled student body. Plus vintage is very in right now. 
"A snail? A terrestrial mollusk?" 12th grade English teacher Mr. Twombley inquires. Yes, Twombley. Exactly.
A snail: A pivotal organism in the ecosystem. 
A snail: considered genderless (that's progressive).
A snail: has the power to heal itself.
A snail: Deep-sea species have shells made of iron and poison. That's pretty bada*s. 
Other schools do objectively have much more vicious mascots such as Wolverines and Wolves, but talk about overdone. Half their logos are just blatant rip-offs of well-known sports insignias with different colors. MIHS deserves a mascot as unique and nuanced as itself. 
Twombley mentions that Wikipedia lists Herbert the Snail as our school's unofficial mascot, bringing into question our commitment to the snail and if we are the Islanders or the Snails. 
"I reckon there might be some advantage to being half Muggle and half wizard. Or to being half-human, half-god" Twombley said. "But half Islander, half snail? It's embarrassing, and I can imagine no metaphor that rectifies these conflicting connotations."
Half and half is far too literal. We are a collective of illustrious Islanders who together create a community as secure and sturdy as a shell for a steadfast snail.
Twombley however, does bring up the important point that we must acknowledge our old racially insensitive Pacific Islander mascot, and make the change to a new mascot official.  Nevertheless, this doesn't necessarily mean we need to change our current mascot, but rather make a legitimate transition to the Snail. A statement from MIHS recognizing Herbert as our official mascot and acknowledging our racist past is most definitely overdue. 
Now changing to an Osprey? Also called the seahawk? Already been done by our beloved Seattle NFL team. Let's stay original here. 
Osprey down? Roll Ospreys? Doesn't roll off the tongue too well.
Twombley recommended we change our stadium motto to "Welcome to the Aerie!" The term for an Osprey's nest. Do we really want MIHS stadium to be represented as a fragile bundle of twigs? Full of bird dookie, half-eaten worms, feathers full of parasites and disease? 
Sticking with the Snail preserves our truly one-of-a-kind spirited traditions, and makes for one unique and community-oriented mascot.