Seattle Seahawks Trade Russell Wilson to the Broncos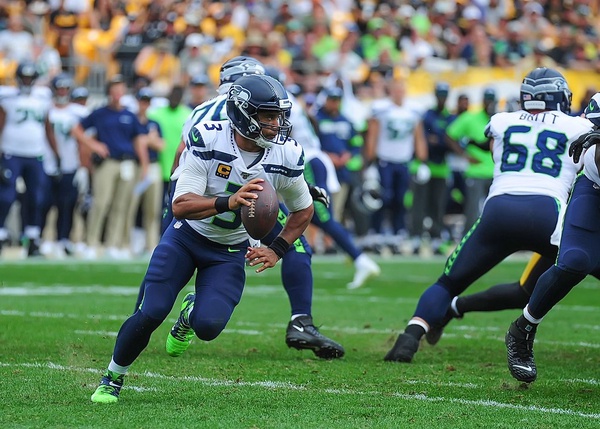 Quarterback Russell Wilson will be heading to Denver after the Seattle Seahawks and Denver Broncos agree to terms in a blockbuster trade, involving multiple first-round picks and numerous players.
Wilson played 10 years at the helm of the Seahawks' offense, leading the team to their first— and only— Super Bowl win in just his second season in the NFL. 
Initially drafted in the third round of the 2012 NFL Draft, Wilson beat out fellow quarterback Matt Flynn for the starting position in Seattle, before going on to tie Peyton Manning's former record of most passing touchdowns for a rookie (26) and being named Pepsi NFL Rookie of the Year.
In his ten-year tenure with the Seahawks, Wilson was named to nine Pro Bowls and set numerous league records, such as most wins by an NFL quarterback through nine seasons (98) and most passing yards in a playoff game by a rookie (385). Just two years ago in 2020, Wilson was named the Walter Payton NFL Man of the Year, a prestigious award given to players to honor their volunteer and charity work.
In exchange for Wilson, Denver gives up two first-round picks, two second-round picks and a fifth-round pick. In addition, they send tight end Noah Fant, defensive linemen Shelby Harris and quarterback Drew Lock to Seattle. Denver gets Wilson along with a fourth-round pick.
Initially when news broke, there were some who doubted the validity of the trade news, possibly because of the radio silence from both Wilson and the Seahawks on social media.
But Wilson touched down in Denver and signed his no-trade provision on Tuesday. He passed his Broncos team physical Tuesday night.
Wilson will be the first quarterback to start for a team that he beat out in the Super Bowl — the only Super Bowl win in Seahawks franchise history.
News of his trade comes after a controversy riddled off-season in 2021, where Wilson expressed concern with his subpar offensive line on the Dan Patrick Show as well as other places in the media. He had begun pushing for more input on roster decisions and control on team decisions. Wilson heavily advocated for a more pass-heavy offensive— a scheme similar to the Kansas City Chiefs— as opposed to the run-heavy system that Pete Carroll prefered. 
These comments marked a change in Wilson's public persona and media responses, which always aired on the side of positivity and improvement of the whole team. Wilson had been a public figure who had, up until that point, gone out of his way to avoid controversy. In fact, for years many criticized Wilson for his "canned" and "polished" answers in media interviews. 
Despite continuous talks of Wilson potentially being traded, he played the 2021 NFL season as a Seahawk. They went 7-10, eventually falling to the Chicago Bears in Week 16 and being eliminated from playoff contention for the first time since 2017.
In addition to the Wilson trade, news broke later that evening that the Seahawks had released veteran linebacker and defensive captain Bobby Wagner. 
Wagner had arrived in Seattle at the same time as Wilson, both being drafted in different rounds of the 2012 NFL Draft. In their ten years on the Seahawks together, Wagner and Wilson led the team to countless wins on the field and left a lasting legacy on the city in their wake. 
Wilson and Wagner were the last remaining players from their 2013 Super Bowl-winning team.
Many Seahawks fans remain unsure and anxious about the future of the Seahawks. Although Seattle has acquired a plethora of draft picks from Denver, Pete Caroll and John Schneider's track record with drafting successful players— specifically in the first round— leaves many feeling apprehensive.