MIHS Baseball Sweeps Roosevelt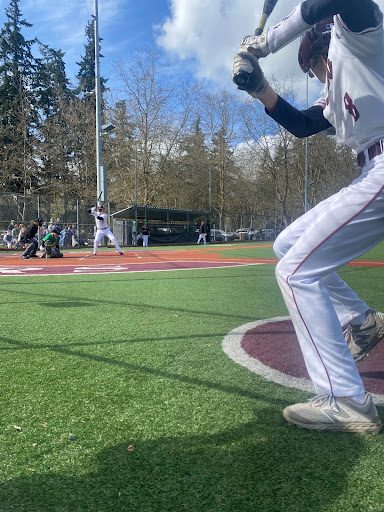 Mercer Island Highschool Baseball defeated Roosevelt Highschool 5-1 in a smooth battle on Saturday, April 2. 
Strong defensive throws helped Islanders limit Roosevelt's hits on base. Senior Colin Shea quickly ended the top of the first inning with persistent pitches.
"[Islander's] hitting [has] been able to put up a bunch of runs, " junior Marques Abulhosn said. "Good defense is really big for us. I think controlling walks a little bit and a little better on our pitches could improve a little bit but otherwise I think we're doing pretty well this year."
Junior Cutter Werdel and Senior Camden Rowland secured two runs at the bottom of the second inning, putting the Islanders ahead 2-0 going into the third inning. 
"I think [the energy] was good," Junior Marques Abulhosn said. "I think it could definitely improve, I think there was a couple of times that it got a little low but I think overall it was pretty good."
Despite the lows, the Islanders elevated their lead 3-0 going into the fifth inning. Junior Lucas Fugi substituted for Shea at the top of the fifth. The unique submarine-style pitching was efficient and speedy but led up one run reducing the lead with a score of 3-1.  
The Islanders; hitting benefited them in the fifth inning as they secured two runs.  At the top of the sixth inning, Sophomore Tyler Gilroy made his Varsity debut pitching well, completely eliminating Roosevelts base activity. 
Islanders went scoreless in the fifth inning and Senior Jack Varney stopped Roosevelt from scoring and obtained a final score of 5-1. 
MIHS Varsity Baseball will face off against Interlake High School on Thursday, April 7.